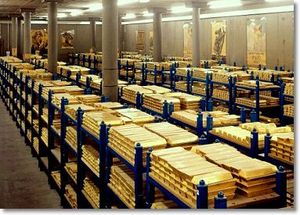 BullionVault reported higher profits amid a doubling of business with customers who seek to buy and store gold, typically overseas, to protect against financial crisis and desperate politicians.
The company was established just 5 years go and now holds gold and silver bullion totaling some US$1.5 billion for over 33,000 customers.
Years ago investors complained that owning gold paid no interest and cost money for storage. Now that holding cash in banks is practically the same situation compounded with the top performance of gold and silver bullion over the past decade have these same investors piling into the precious metals.
Paul Tustain, founder and chief executive of BullionVault, said in a statement: "The major driver of growth has been the steady realisation among private savers that low interest rates are here to stay."
Further, "Central bank statements have confirmed their fears.  Savers rarely regret the decision to steer clear of governments which address economic problems by printing money. At the moment, every day, about 2,000 people in the English-speaking world are despairing of economic policy and its effects on their savings, and they are turning to gold and silver."
BullionVault, a member of the London Bullion Market Association, now claims to hold more than 26 tonnes of gold; that's greater than the official reserves of Hong Kong, Luxembourg, Canada, Ireland and Qatar added together.
If your savings are in your home currency, located within the borders of the country you live in, then your assets are a risk and you should take action immediately.
To help encourage you to overcome inertia and take action, BullionVault will actually give you a free gram of gold (worth about $60) for opening a free account.
Get your free gram of gold and start protecting your wealth today at BullionVault