Great Deals For Small Orders or Large, Silver & Gold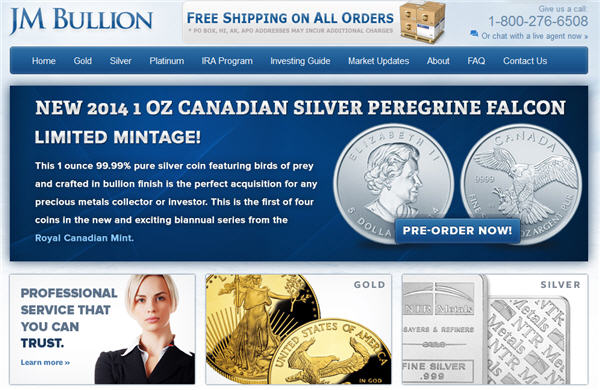 We have been a little late in discovering that JM Bullion is one of the best places to buy Silver or Gold (even Platinum), probably because we have other vendors we have been very happy with. But with so many people wanting to start buying Silver in small quantities as they have the cash available we needed a company that offered low prices and free shipping on smaller orders.
After all, not everyone buys Silver and Gold in increments of $5000 and above, or 100 coins and more.
Other investors simply want to test a new precious metals vendor with a small order before they can trust them with a larger one; yet they do not want to have to pay higher premiums or large shipping and handling fees in order to do so.

Enter JM Bullion
Online Gold & Silver dealers have a lot of hurdles to cross in order to establish and maintain a reputable and profitable business, and we will admit that some of the accusations of a JM Bullion scam made us a little wary too. This is exactly, though, why so many investors test the waters with a small order.
One also has to remember that when it comes to online precious metals dealers, even the very best will have negative reviews and people accusing them of running a scam.
JM Bullion does not require a large order to get the best price buying Silver or Gold, and the free shipping applies to all orders – with the exception of some special types of military & P.O. Box addresses, AK & HI. Like others, though, the price does go down as you order more of a particular product.
Can You Trust JM Bullion?
A company like JM Bullion can always screw up, and as we have learned in life it's not whether or not you make a mistake in business but rather how you handle the mistake in relation to your customer or client.
With our first order it was placed the same day we ordered from APMEX, a competitor with a very similar profile to JM Bullion. And while the APMEX order was received first, their company is two mailing days closer to us and thus received our check two days sooner.
Subsequently, JM Bullion was right on time with an email to let us know that while our order was approved for shipping there would be a delay as they transitioned to a new distribution center. Unfortunately, this transition came at the same time as a slew of Winter storms hit the Eastern half of the country.
Additionally, that email came with a $5 off coupon for our next JM Bullion order.
I called to inquire on the status a few days later and was told by a very polite customer service representative that our order should ship either that day or the next. Coincidentally, an email arrived in our inbox just a few hours later stating that the order was on its way.
One order does not ensure trust in a precious metals firm, but it is a great start. We will be ordering again and using the JM Bullion coupon code we were given.
Buying Silver At JM Bullion

We originally found JM Bullion when searching for the cheapest monster box and then again when looking for small quantities of cheap Silver bars. What really struck us and finally tip the scales in the favor of placing an order was the exceptional selection of 10 ounce Silver bars at lower prices for just one than other vendors offered for a quantity of 10.
JM Bullion has a wide variety of Silver in all forms and has the best prices almost across the board. And since Silver is heavy and therefore costs more to ship than Gold it's important to get either free shipping or a very low cost option. So many other Silver dealers offer free shipping only with very large orders or by charging higher premiums.
Buying Gold At JM Bullion
When it comes to buying Gold at JM Bullion most everything applies as what we said about Silver; though by observation the cost differential is not quite as high. Maybe that is because Gold is more competitive, not sure. And JM Bullion kind of sticks out in the Silver category because of the LACK of selection at so many other online bullion dealers.
The times we have checked we have found the Gold items we typically buy but the selection on Gold is not as impressive as that on Silver.
Certainly with buying Gold the issue of free shipping on small orders is going to be just as big of a deal as with small orders buying Silver.
Methods Of Payment Accepted
Like many other online bullion dealers, JM Bullion allows credit card payment for a higher price per item and a limit on order size ($100 – $5000). Otherwise, like the others, you use a credit card to secure the order. Check payment is accepted ($100 – $20,000), as are wire transfers ($2500 – $150,000).
One unique form of payment is direct payment into their bank account which quite likely is fee-free for you and gets them verified funds quicker than check.
Buying Precious Metals In IRA
This is something we personally have never done, but JM Bullion does have IRA eligible Gold, Silver and Platinum.
Selling Silver, Gold & Platinum To JM Bullion
Again, selling precious metals to JM Bullion is not something we have done, and they do not have a convenient link on their website to get one started, but I would start by a toll free phone call or start a chat with a representative online.
Summary
JM Bullion is an established online bullion dealer (www.JMBullion.com) from Pennsylvania, with distribution center now in New York. They have a BBB (Better Business Bureau) Rating of A- and have all the expected security badges on their website.
Related Article: See our #1 recommendation for precious metals purchase / storage
The company seems to do quite a lot of business and accumulated many fans and, like everyone, a few detractors. So far our experience with them is excellent and are expecting it to stay that way.
JM Bullion may be one of the best places to buy Silver, especially in small quantities. They offer free shipping on most every order with the exception of military addresses, Alaska, Hawaii and larger orders to P.O. Boxes.