Buy Gold Eagles At Low Premium – Ship Or Store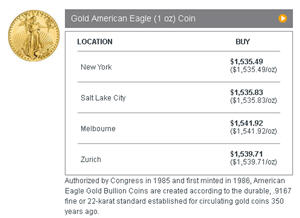 Some clients want actual Gold coins like American Eagles, so instead of paying high premiums and getting thin promises for delivery we are using Hard Assets Alliance. Earlier today we wrote about buying physical gold through BullionVault at getting instant access to the metal at very low premiums, with inexpensive storage.
BullionVault may not be the right answer for everyone and most of our clients want to buy gold and silver in various formats and varying storage options.
So most of those we work with have accounts at several of these institutions.
Hard Assets Alliance – Best of Both Worlds
With most bullion dealers, coin shops or Gold storage facilities you have to choose between whether you want to take delivery of the physical bars or coins or pay the company to store the precious metal for you.
Hard Assets Alliance allows for both.
Leave the metal in their storage for now, pay very low fees to do that, knowing that your Gold and Silver is segregated and insured. When you want to arrange for delivery – if you ever do – then simply give them a call and arrange it. I believe they promise a 2 day lead time.
At times like this there is no quicker way to get the Gold in your name that I know of.
The last thing you want to do is scour local coins stores, if  you have any in your area – or God forbid resort to eBay; either place is going to rip your wallet to shreds with premium!
Hard Assets Alliance is U.S. based, no foreign account reporting to do, the customer service folks are polite, American English speaking and knowledgeable.
I just spoke to one of those wonderful customer service reps (named Theresa) and she indicated that with many of the coins there is a little bit longer delay, maybe 7 – 10 days to get the coins shipped out. They had some trouble getting 1/10 ounce Eagles and had to take them off the screen; but other than that, if you see it on the market board to order, they can get it!
Open an account today at Hard Assets Alliance
We are placing orders today in accounts that have been open for a long time and the client is ecstatic with their service and directed us to place an order for some more Gold American Eagles.