Christmas Silver Coins and Bars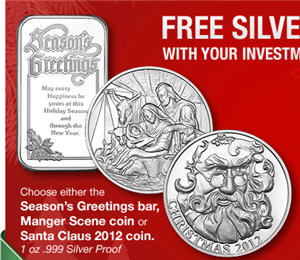 Northwest Territorial Mint is one company I have bought a lot of silver from over the years. Their prices are fair and shipping is FREE. With silver, free shipping is a big deal, especially for large purchases (because it's HEAVY!).
This year Northwest Territorial Mint is again offering free silver in the form of a Christmas coin or bar with your purchase of at least 100 ounces of silver in the form of your choosing.
I have done this before and it's completely legit.
What I DON'T Like About Northwest Territorial Mint
There are two reasons that I do hesitate to buy gold or silver from NWT Mint. Neither has anything to do with the company being reputable, because from our experience, they are.
Here is what I take issue with:
The do not have a way to buy online, you must call during their business hours, which, even though they are on Pacific Time, the hours are pretty convenient. Only thing is, sometimes the BEST prices to buy silver are BEFORE they open in the morning.
With silver there can be a 3 MONTH delay before you get your silver coins and/or bars. They have always said 10 to 12 weeks from the date they receive your good funds, but my experience is that it tends toward the later date and once was delayed longer than that. No other company that I have bought silver from delays anywhere NEAR that long.
That said, we do buy silver and sometimes gold, platinum and palladium from Northwest Territorial Mint and have been happy overall.
And right now you get a free silver ounce coin or bar, Christmas themed which is nice for stocking stuffers and worth over $30 each right now (and going higher, we believe, in the near future).