Stop Eroding The Gold And Silver Balance In Your Account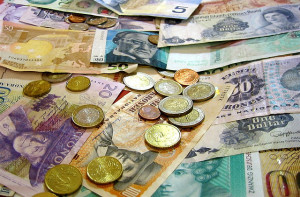 Just this month (August 2013) we received an email as a GoldMoney customer that we can now pay our storage fees in cash rather than have them ding our precious metals accounts. (See this post for why we always hated that.)
Note: Here are the nine major currencies they accept (USD, GBP, EUR, JPY, CHF, CAD, HKD, AUD and NZD).
This is a nice step forward as GoldMoney continues to remove obstacles to us absolutely loving everything about them, and lessening the advantage that #1 BullionVault has over them!
Ever since their inception, GoldMoney has, every month, reduced the metals balance in each of your metals accounts (not aggregating fees for minimums either, like BullionVault) to cover storage fees.
This has been great for them as they accumulate REAL MONEY instead of fiat currencies. But as noted in that post referenced above, there are at least 3 disadvantages to that.
So we APPLAUD this change!
Here Is How To Select Paying Storage Fees In Cash
If you wish to pay for the storage of your precious metals held through GoldMoney in a currency rather than in metal (that you are trying to ACCUMULATE!), simply select the "currency" radio button next to "Storage Fees" and then make sure the currency of your choice is selected. You will find this under the menu options 'Profile & Settings' > 'Preferences' after logging in to your holding account (see image below). Be sure and click the "Update" button at the bottom: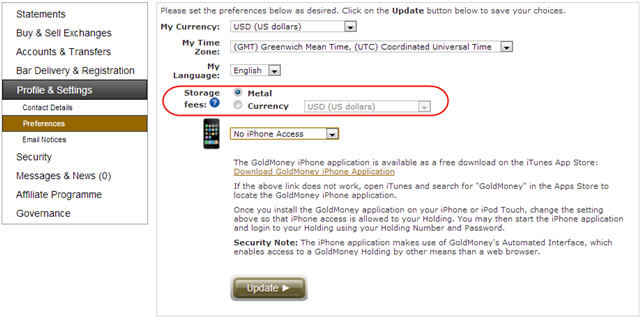 So What's The Problem?
While this is wonderful that we can pay storage fees in cash and not Gold, Silver, Platinum or Palladium since, after all, we have a GoldMoney account in the first place to accumulate MORE of the metal and LESS of the currency, right?
The problem is that now after the Summer Precious Metals Sale (orchestrated takedown + normal Summer doldrums), we have NO CASH LEFT in any of the accounts we have at GoldMoney.
One of the advantages of GoldMoney is that you could buy metal and select "use all available funds" and you would get as much metal as possible with a temporary "freeze" on the price for a few minutes while you made the transaction.
There was no incentive to keep any cash in the account:
Cash balances pay no interest at GoldMoney (or most anywhere else for that matter)
It costs money (last time about US$20) to get them to return excess funds to you
Had we any idea this was coming, we would have left a few hundred in cash in the holding so that we could pay future storage fees in cash instead of metal.
Why We Can't Just Add More Cash To The Account
OK, we could fund our accounts with some more fiat currency to pay these storage fees but!
This requires an expensive (US$50) international wire transfer, there are simply no other funding options whatsoever with GoldMoney. Add to that the time requirement (pain in the a$$) of doing a wire and it simply isn't worth it when fees – thankfully – are not THAT significant and have been coming down in the last year.
But boy, it sure would have been nice if they had announced this either ahead of time or before the end of the SUMMER LOWS in metals prices!
(I know, beggars can't be choosers [though we can still whine a little])
Open Your GoldMoney Account, Leave Some Cash
So if you don't have a GoldMoney account, look into it NOW – click here…
Or if you are funding your account soon, remember to:
LEAVE SOME CASH TO PAY THE STORAGE FEES!
And make the proper selection in your account preferences.