Quick & Easy HAA Account Funding With ACH
One of my gripes with buying Gold or other precious metals is that most vendors require (or encourage via long delays on other methods) wire transfers of funds. Wire transfers are time consuming, painful with some banks (I've trained way too many tellers at the expense of my time), and expensive. Especially for a company that qualifies as an international wire.
Shortly after opening their doors, though, Hard Assets Alliance promised an ACH funding option and made good on their promise. That means something to us, a company actually following through on a promise!
Currently, though, ACH is only uni-directional: you can add funds to your HAA account using ACH transfer but may not (yet) withdraw funds that way. I believe they hope to implement that feature at some point in the future.
Setting up ACH transfers from your bank is quick & easy; this short video I did for you shows how the process works:

ACH Bank Verification
Here's a screenshot of an EverBank account with the test transactions for verification from Hard Assets Alliance. Note that when you input these numbers into the HAA verification screen, be sure and use the "0" (zero) in front of the decimal point.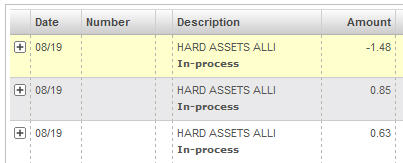 What To Do Now
If you don't have a Hard Assets Alliance Smart Metals account already: