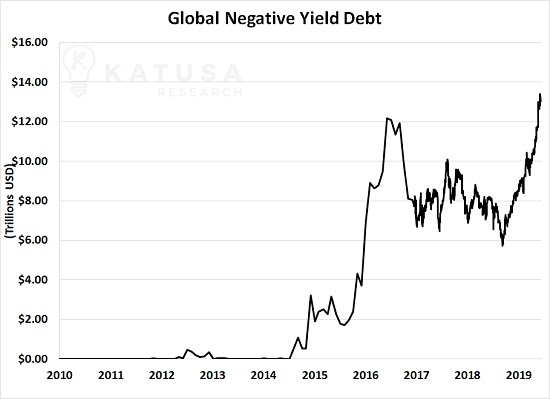 What is Powering Gold's Rise
Our thanks to Marin Katusa for inspiring this post about the Gold price recovery; and the tsunami of cash finding it's way into the Hard Assets Alliance and similar repositories.
Marin's point is that there are 14 digits powering the gold market that you don't hear a lot about:
$13,049,718,112,256 – The total amount of debt in the world that currently is on loan to governments with a NEGATIVE YIELD.
You don't hear much about this UNLESS you listen to the right people.
I just listened to a replay of Mark Yusko's presentation at John Mauldin's SIC2019 conference where Mark actually used a few NSFW expressions trying to drive this point into our minds…
You put X dollars (or Euros, whatever) on deposit with a government or bank (propped up by a government) and at some point in the future you get X MINUS dollars/Euros back.
What The FUDGE?
You are PAYING them to store your FIAT cash, which is arguably moving towards zero value more every single day (with upward blips, of course).
So let me get this straight…
Warren Buffett hates GOLD because it doesn't pay a dividend, and you have to pay someone to store it for you… (we use The Hard Assets Alliance because they have the benefits we're looking for at about the LOWEST COST you can find – Learn More Here)
Yet for over 5000 years at least GOLD has maintained it's basic purchasing power; while EVERY fiat currency has eventually become worthless, always in under 300 years (correct me if I'm wrong Mike Maloney)
So Buy US Treasuries
We've personally been buying US T-Bills for anywhere up to a 2.5% yield over the last 9 months or so…
But that game is already over just when it was getting started. Rates are back flirting with 2%.
Over time, the Fed claims that's what inflation is…
Tell that to my health insurance company, kid's college, your local hospital, etc.
So explain why investors are willing to buy 30 YEAR TREASURIES at barely more interest than that? For the last 2 decades they've been buying for the CAPITAL GAIN as rates continue to zero and BEYOND to NEGATIVE…
That trade, by the way, is still a good one if you believe the speakers at SIC2019.
Yet we all know where that's going; and it's disturbing WHY interest rates are heading downward despite a fairly robust economy and low unemployment.
It's why SMART INVESTORS are moving back to GOLD & SILVER.
The Hard Assets Alliance To Buy and Store Gold
We live in South Texas and are very familiar with Texas Real Estate and the crime rates.
While crime is not "high", per se, there are disturbing events on an ongoing basis that tell us you shouldn't just buy a Silver Eagle Monster Box or a couple dozen American Gold Buffalos and store them in your sock drawer!
There is not a home we have seen anywhere in Texas that was purposely designed to house a professional grade safe or a good gun safe. These safes MUST be bolted down yet few are savvy about drilling into their post tension cable foundation!
Consequently, buying and storing Gold/Silver/Platinum at a company like the Hard Assets Alliance makes a ton of sense to us, as we have been customers since they opened their doors many years ago now.
They have a great online platform that allows us to easily:
ACH transfer money from our bank account
Buy precious metals in the form & denomination of our choice at discount prices
Store the metals with them, in a jurisdiction of our choosing, at low cost, until we want to sell or have them ship to us
Where Is The Gold Market Headed?
We don't have a crystal ball…
Yet we pay for some of the best research on the planet and here is what we know:
The same people who predicted the past few years of deathly silence in the Gold & Silver markets are now telling us that 2019 is likely to be the turnaround year, and beginning of another exciting time to be owners of the only asset class to maintain global purchasing power over thousands of years.
So the question is, are you underweight in Gold & Silver?
If so, now is the time to do your research and allocate your funds based on what's right for you and your family.
For us, we are counting on precious metals to preserve wealth for future generations, and we count on the Hard Assets Alliance to safely store that treasure for us.
Read our full review of the Hard Assets Alliance by CLICKING HERE