Allocated, Insured Gold Bar Storage – You Get Serial Numbers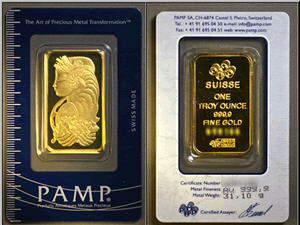 If you want to know how to buy Gold bars and get serial numbers, know that there are very few precious metals vendors that will offer to sell you serial number gold bars and then give you the option of having those bars shipped to you or have them stored at one of several vault facilities in fully allocated, insured storage and give you the serial numbers of your gold bars.
Hard Assets Alliance, though, is one such trusted company we use.
When you buy gold through BullionVault, GoldMoney or most other gold storage companies you merely get a "piece" of a larger gold bar and your ownership of that bar is co-mingled with all the other fractional owners. (Only when you have sufficient holdings can you "order" a Gold bar from them, but it's just any Gold bar procured at the time of your order.)
And that's a good system for a portion of your precious metals portfolio, and we use both of those companies ourselves.
Yet there are times when you want to know that you own specific, serial number gold bars, know what the serial numbers are and that they are fully allocated to you and located in a secure, insured vault.
Hard Assets Alliance (HAA) will do just that.
When you buy gold coins from HAA you have a claim on that number of sovereign gold coins in their vault storage, but not a claim on SPECIFIC coins.
With gold bars of any size, however, if it has a serial number you are provided with that serial number! If you choose to have your gold shipped to you at a later date, you will receive those specific serial number gold bars.
If there would be some kind of default or other reason for the companies assets to be evaluated, the audits would show that those serial numbered bars belong to you, not the company and no one else. That's is one reason some people prefer gold bars over gold coins.
The other reason some folks prefer bars over coins is that mentioned by John Hathaway of Tocqueville Gold Fund in this Mineweb article – lower cost. And the larger bar you can afford, the lower cost per ounce. Note that larger bars are bigger blocks of your overall portfolio that must be bought or sold in one transaction, however.
Also note in that article this quote from Mr. Hathaway:
Either way, you can do better than hoarding coins in your safe deposit box at the bank or in your house.
Perhaps he had Hard Assets Alliance in mind?
Personally I trust HAA with either sovereign gold coins or serial number bars, but as Mr. Hathaway pointed out, the costs to buy gold in bar form are lower than coins:
You pay a premium to have coins. Whenever I try to buy coins, I feel moderately ripped off because you pay a premium over the bullion content. However, there is a convenience factor to coins.

When buying physical metals, you have to consider your needs. If you intend to take personal possession of your holdings, sovereign coins may be a good option for you. Or 1 oz bullion bars. That's the convenience factor; sovereign coins are more easily verifiable in the retail market.
Your needs and comfort level should be what drive your gold or other precious metals purchases.
Hard Assets Alliance was formed to try to give you options that no one else was providing at low costs that cannot be found elsewhere.
At HAA you can buy gold, silver, platinum or palladium. Take delivery now or have it stored in one of many secure vaults around the world. Have it shipped to you at any time.
Opening an account at HAA is currently free, the fee is being waived for a time – but I don't know when that time will run out.

Check out Hard Assets Alliance now and maybe grab a few serial number gold bars before the price goes up.