Mad Money Host Wrong About Buying Gold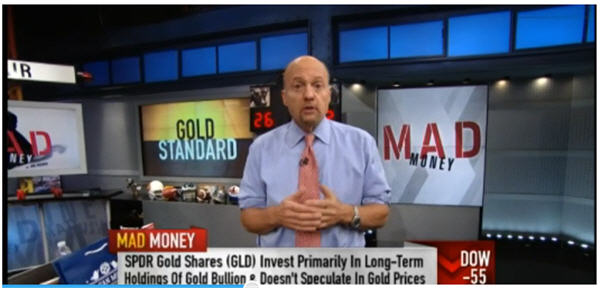 Jim Cramer says buy Gold as insurance for your portfolio (he said it here); he is right about that. And that's about all he is right about. The Mad Money host has an inside track on may aspects of Wall Street so he should know more about the risks you want to insure yourself against.
If things really go bad on Wall St. such that you want a top of the line insurance policy like Gold, why on earth would you want your insurance policy to rely on Wall St. being – to make fun with a pun – 'sound as a dollar'?
3 Ways Jim Crames Is Wrong About Buying Gold
First, Cramer says to limit Gold exposure to 10% of your portfolio. That's not his call to make for you. If Jim Rickards is right – and he's a very sharp and well respected guy in ALL financial circles I am aware of – and Gold get's 're-priced' to something in the neighborhood of $8000 per oz in 3 – 5 years, do you want just 10% of your portfolio allocated to Gold when that happens?
Second, Mr. Cramer is not insuring your portfolio against one of the biggest risks in existence – COUNTERPARTY RISK. If you buy the SPDR Gold Shares (GLD) as your only insurance then you are betting that:
SPDR really has the Gold (Probably do?)
SPDR has not re-hypothecated the Gold (ya think? seems everyone else and his Fed does)
Your brokerage account that contains SPDR is solid in a crisis (hmm, might want to look into that)
The company(s) behind SPDR really stand behind it (might want to look into that too)
Third, our Mad Money friend thinks only the very rich can actually buy physical bars and lock them away somewhere. Really? The poor can take a few hundred bucks and buy bullion at the local store and bury it in the backyard or put in a safe deposit box (we recommend neither).
The really rich wanting to allocate 10% into Gold bars have more of a logistics nightmare than you or I do, since coming up with millions or a billion in Gold bars is a challenge to say the least.
The RIGHT Way To Protect Your Portfolio With Gold
(We do NOT offer investment advice here, but this is what we believe and what we DO)
There are a number of ways to buy and store Gold whether it be for your personal account, a Trust you might have, a custodial account or even an IRA. Some are better than others.
The one way we feel 'ticks the most boxes' is The Hard Assets Alliance (see our review here). Here's why:
You are getting fully allocated physical Gold, coins or bars of your choosing.
Your Gold is either delivered to you or stored in one or more of a number of secure, audited, insured locations in the U.S. or around the world; including Singapore, fast becoming the #1 choice in physical Gold storage. If you choose to store your Gold in one of the vaults you can change your mind and have it shipped to you upon request.
You buy at some of the lowest prices anywhere and if you sell through them get some of the highest prices you will find anywhere, taking advantage of their wholesale dealer network that competes for your business.
You are dealing with a U.S. based company so there are no convoluted foreign asset reporting forms to fill out and file under penalty of death (well, almost that bad). Note: This is our opinion and that of OUR tax advisor – always consult with YOUR tax advisor on matters of this nature.
You are dealing with a company that has full time, English speaking, knowledgeable and courteous customer service representatives available to serve you with any questions or needs you have regarding your account at The Hard Assets Alliance.
Your storage fees with The Hard Assets Alliance are reasonable; SPDR Gold Shares pay storage fees & expenses internally that whittle away the value of the shares over time as well.
Conclusion
Jim Cramer says buy Gold for your portfolio and we agree. We just feel that he is completely wrong about how to do it. SPDR shares are convenient, but not even close to the same thing as owning physical Gold with no counterparty risk and that you control.
And while there are many fine companies to buy and store Gold with (many reviewed here on our site), we just happen to feel that after trying a vast number of them ourselves with our own money that Hard Assets Alliance makes the most sense for most people most of the time.
You can learn more about The Hard Assets Alliance and get a free precious metals investor action kit by CLICKING HERE.