Buy Physical Gold, Offshore Gold, Platinum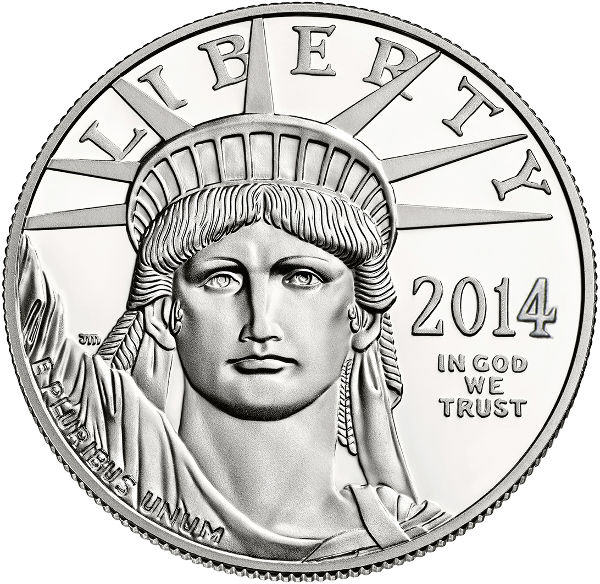 There are a number of newsy type items to report on so we thought we would just group them together into one post today. Naturally they all deal with buying Gold, either locally or offshore Gold accounts.
Roger Bond Interviewed By Nomad Capitalist
A short while back Andrew Henderson of Nomad Capitalist interviewed my about buying and storing Gold offshore. We had a really nice chat about what was going on that was driving investors to seek the shelter of physical Gold stored offshore and where they were choosing to store it.
You can find the link to the interview here. (Downloadable MP3 too)
JM Bullion Offers Pre Order of U.S. 2014 Platinum Eagle Coin
It's been several years since the U.S. Mint struck a 1 ounce Platinum Eagle coin and JM Bullion (review here) is now taking pre orders for the 2014 Platinum Eagle due to be available on March 21, 2014.
These are beautiful .9995 Platinum coins that are sought after the world over ever since their introduction in 1997.
Head over to JM Bullion and check it out.
Texas Precious Metals Announces Banner Year
Here I thought the COO of Texas Precious Metals (review here) gave up confidential information in our interview last summer. Now they are releasing sales figures for 2013 and they are IMPRESSIVE! Keep in mind that if metals prices had not been so dirt cheap, sales figures could have been higher (yes, with higher prices it's possible fewer people would have bought…).
This infographic was sent out via email blast to all of their subscribers this morning. Take your time and pick through the figures and I think you will be impressed.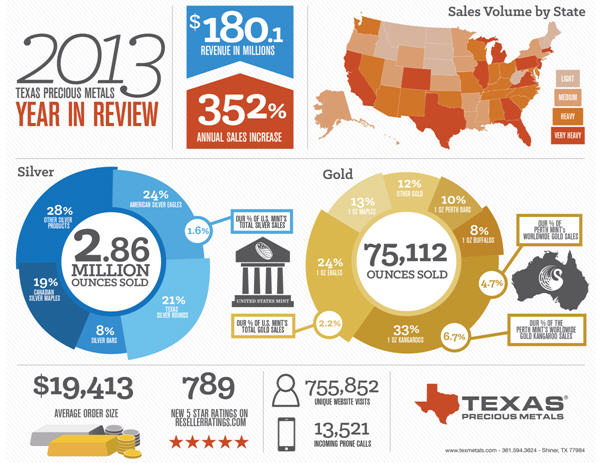 Peter Grandich Goes Short S&P, Reiterates Gold Story
Peter Grandich called the stock market rally beginning in March 2009 practically to the day, and now he is recommending that it's time to stage into a short position in the stock market.
At the same time, Grandich reiterates that those who have decried Gold as a relic with no purpose are about to be forced back into hiding. Read more here.
[2015 update] At this point Peter has pretty much gone into hiding. I will say he was smarter than most to just throw in the towel on mining stocks and sell them at huge losses while there was still something to sell. Most of the stocks he promoted are simply … gone. And the Gold bears? I think you know the answer to that.
Hard Assets Alliance Offers Gold IRA With Swiss Storage
I just completed an interview with Ed D'Agostino of the Hard Assets Alliance (review here) where he revealed – for the first time – the brand new feature of HAA IRA accounts being able to buy Gold Eagles for offshore storage in Switzerland in complete compliance with no additional reporting!
Keep your eyes peeled here for that interview.