Buy Gold In A Trust, Secure Storage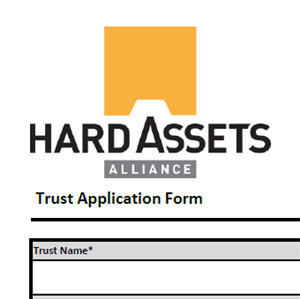 Today I am helping some folks buy gold in their trust accounts using Hard Assets Alliance.
Remember, with HAA you can either take delivery of your precious metals (now or later) or you can store gold, silver, platinum and palladium securely offshore or right here in the United States.
This is real, physical, allocated gold. Sovereign coins that you buy and either store or take delivery of. If you want serial number gold bars, you can request they tell you the serial numbers of any gold bars stored in your account with your Trust name on them.
If you have a living trust, irrevocable trust or some other structure like that, you may have found it difficult to buy gold in a trust; especially allocated gold or other precious metals.
With Hard Assets Alliance it really is very easy. Here are the steps you will undergo:
Sign up at Hard Assets Alliance – Click Here (no setup fee!)
There is just a simple registration process that is quick and simple. Print the application info for your records.
Very quickly you will receive an email with a Trust Account Application and a W-9 form (U.S. entities) or other appropriate form. Fill those out. The trust application for Hard Assets Alliance is only 1 short page!
Near the bottom, above the signature, there is a box that offers you a chance to identify the affiliate who referred you to Hard Assets Alliance. Please put "BuyAndStoreGold.com-RDR" in that box, we appreciate it. See our disclosure policy for more information on affiliations.
Sign the forms and send them back with a certificate of Trust: scan & email, fax, courier service or snail mail.
Fund the account via the method of your preference (ACH should be available by now too).
Hard Assets Alliance makes buying gold in a trust simple and easy to do.
There are very few ways to conveniently buy and store gold or other precious metals in a trust account. And in case you did not know, couples (or even singles) with any significant assets whatsoever are highly inclined to put ALL of their assets into a living trust for estate planning purposes.
Living trusts can then, upon the grantor's death, create irrevocable trusts for asset protection, estate planning and other legitimate purposes.
Therefore, having a company like Hard Assets Alliance conveniently accommodate and even welcome trust applications is a refreshing change from what this author and many of his family and friends have encountered for many years – both with buying precious metals and other financial assets.
So if you want to buy gold in a trust, have several choices of jurisdictions where you can store that allocated gold and even have the option of taking delivery, then perhaps Hard Assets Alliance is what you have been looking for.
We use them to buy gold in our trusts and family members trusts as well.