PROMO: Buy At Spot Price Up To $1000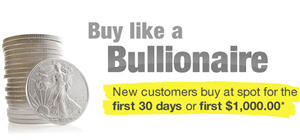 The current promotion at SilverSaver.com got us off our collective behinds to finally open an account at Silver Saver.
If you open a new account by November 15, 2013 you have 30 days to buy Silver or Gold at spot prices up to $1000. Hey, not huge, but it helps.
And with the price of Silver and Gold being someone repressed here, especially considering the time of year, it seems like a good time to buy some Silver bullion especially, since so many advisors seem to think that Silver is an even better speculation than Gold at this point and pricing.
I have to thank my friends at Casey Research who were comparing MetalStream from the Hard Assets Alliance to Silver Saver in the November issue of Big Gold to finally encourage us to get this done.
In Big Gold, they actually were sort of replacing their long standing recommendation of Silver Saver with MetalStream, and MetalStream does have its advantages. But Silver Saver is still an excellent program and has its own advantages.
Personally, we want to have accounts with all of these companies that we are able to – and can afford to – so that we can review them and let you know what you need to know to make the best, informed decision for your own money.
What we know so far is that once you open your account, go ahead and setup your bank information right away because it will likely take a couple of days before the test transactions show up and you can confirm it and start buying Gold or Silver at spot (before the price goes up???)
Learn more about (or get started with) Silver Saver while this promo is live