Yes, You Can Buy And Store Gold Offshore In A Trust Account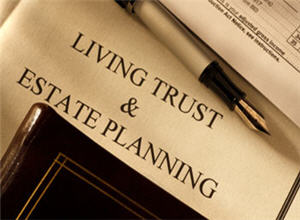 It never ceases to amaze me how financial firms spend loads of cash advertising to woo the wealthy into their lair but then fail to recognize that the wealthy with brains have all of their assets in trusts.
Shucks, even middle class Americans use Living Trusts for estate planning purposes. And that will just increase all the more if the estate tax exemption is allowed to plummet 80% from the current $5 million down to $1 million (Politicians, as much as anyone, should realize that $1 million doesn't buy what it used to!)
(To answer "why a trust" I will allow some estate planning attorney to go through the benefits with you, but essentially you want to avoid the costs and publicity of probate if nothing else.)
GoldMoney, the face of which is the eloquent and oft speaking James Turk, may be the best known and mostly highly advertised online gold and precious metals purchase and storage firm out there, in business since 2001. But if you have a simple living trust (or God help you irrevocable trust), GoldMoney will not open an account for you.
(GoldMoney will take professionally managed trusts and very high net worth trusts willing to make a very large purchase at GoldMoney – and charge some nasty fees in the process. Why are they this way? I have no idea.)
Good News, BullionVault Accepts Trust Accounts
With BullionVault, not only do you get to buy and sell gold at some of the lowest prices ANYWHERE, and enjoy some of the lowest storage fees ANYWHERE, they will open a trust account for you just as quickly and easily as a personal account.
You can literally begin to buy gold and silver, storing it offshore, just a couple of days after first creating an account (if you use a wire transfer to fund the account).
Steps Required To Open A Trust Account With BullionVault
Opening a trust account with BullionVault so that you can preserve your wealth with real money, ie, gold and silver, then store that wealth offshore and out of reach of the politicians wishing to take it from you is simple, safe and easy:
First, open an account with BullionVault and claim your free gift of actual precious metal. Please be sure that the referral code DELTA5 is on your application (or just leave that field blank if you use the link here) please! *
Second, validate your account. You will receive an email asking you for documents, but you need not wait. Simply log into your account, highlight the "Account" tab and select "Documents". These days it's nice to have documents scanned to PDF, like passport, trust documents, etc. but they also accept JPG, PNG, GIF, TXT, RTF files – so if you have a smartphone, you can probably get the job done. You will need to upload:

Passport or Driver's License
Bank statement of the account you will fund the account with and receive any withdrawals to (you can black out sensitive amounts, just make sure it's a recent statement
Check or Deposit slip with routing and account numbers. Note: Some banks like Everbank use a different routing number for deposits, don't use a deposit slip in that case. I simply typed the banks routing number on my statement and that sufficed.
Proof of residence address, such as a recent utility statement.
With a trust, the 1 or 2 page Certificate Of Trust is sufficient

The website says allow up to 5 working days but I got emails back within 12 hours and in one case within 20 minutes saying the document was accepted!

Fund your account. Previously I had mailed a check but that was not an option this time. ACH works but keep in mind you MUST be able to include your "username", that's how they link up the money with your account. With a wire transfer, sure it costs a few bucks but it is standard wire, NOT an international wire, so the fee is less. They use Bank of America for US clients to make it easier and less expensive.With wire's, the username can go in the "For Further Credit" field or maybe "Client Account Number", it depends on your bank's form. I have worked with newbie tellers in the past and I will say that you should verify the wire form yourself. BullionVault gives CLEAR INSTRUCTIONS for the 3 methods of funding available, just double check your work.
You will get an email from BullionVault when you are validated, funded and ready to trade. If you have any questions or issues, simply email them at [email protected] and they are very helpful and responsive.
Verifying That Your BullionVault Account Is Titled To Your Trust
Once logged into your account, highlight the 'Account' tab and select 'Settings' and look at the 'Contact Information'. You can verify that your BullionVault account is indeed "titled" in the name of your trust. If you see any incorrect information, contact them right away and get it corrected.
One Caveat to BullionVault
One very small drawback to BullionVault is that they restrict each account to one linked bank account (GoldMoney allows 5). So to avoid unnecessary hassle in the future, choose your bank account carefully (if you have more than one).
If You Have A Trust, Use It!
Just remember that if you have a living trust, you have it for a reason. Don't go putting assets in accounts outside your trust (your attorney will thank you) when BullionVault is happy to hold your gold and silver offshore in a trust account for you.
My own personal suggestion to you is to then make a notation of the account in your trust "book" or other documentation you (hopefully) keep for your executor should something happen to you (it eventually will..).
Irrevocable trusts, such as Family Trusts, as also welcome. They are treated the same as Living Trusts.
Tax Reporting
We have covered this elsewhere, but it's important. BullionVault accounts are classified as Foreign Financial Accounts and must be reported each year on Treasury Form TDF 90-22.1 (not a big deal) due on June 30th and the new (Tax years 2011 and after) Form 8938 that goes with your Form 1040.
Reminder: We are not tax advisors, please check with your CPA or tax advisor just to be sure.
Get Your Trust Account Opened With BullionVault Now!
---
* Here is a screenshot of the 'Open Account' form at BullionVault. We recommend using an electronic password safe (there are good free ones) and you may want to write down your username, COMPLEX (use all 20 characters) password and the email address you signed up with.
If you use the link on this page, the 'How did you first find BullionVault' box is unnecessary to fill in. But to ensure we do get credit, if you put anything in the box, please put 'DELTA5' as shown in the screenshot (thanks!):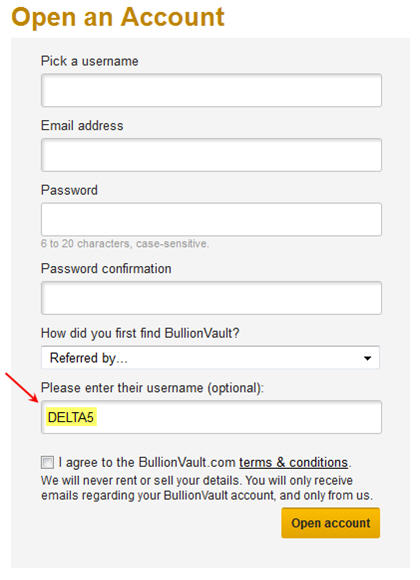 .
BullionVault has a referral program that you too can participate in once you create, validate and fund an account. See the terms on their website and our Disclosure. Note, though, that whether or not a company compensates us in any way, we write our own true experiences! – even if other companies will pay us or pay more. We choose to recommend BullionVault (and use it ourselves) because of all the reasons mentioned above, any potential for compensation is ancillary.

---
Listen to this post on AudioBoo