Choose Gold Storage Companies Carefully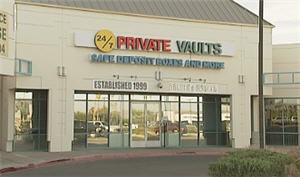 OK, not everyone can store gold in a private vault like Das Safe in Vienna, because, well, you have to go to Vienna.
So some will instead opt for anonymous private vaults more locally, like in Las Vegas.
Unfortunately for some people with valuables stolen from 24/7 Private Vaults in Las Vegas, they found that not only is 24/7 not the hours kept, but apparently the security isn't what was promised either.
When the private vault company looks like a dry cleaner in an ordinary strip mall then beware.
And while offshore gold storage companies like BullionVault and GoldMoney are not anonymous, we believe they are MUCH safer ways of storing gold, silver and other precious metals than using a mom and pop private vault company in the local strip mall.