Little Titan From SnapSafe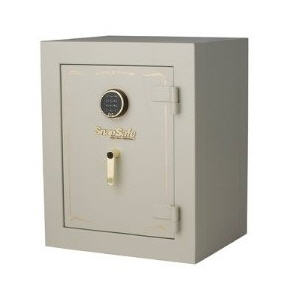 Once you realize that you need to buy gold and have some of it stored close at hand you might wonder where to store gold at home.
Not everyone wants their neighbors to see a truck labeled "John's LockSmith Co, We Sell Gold Safes" back up your drive, 4 huge guys get out and unload a heavy box and haul it in your house.
And maybe you don't trust "John" or the 4 guys making the delivery at $9 per hour.
Where To Store Gold At Home
Personally, we find a lot to like in the Little Titan Safe from SnapSafe. We actually own several among all of us here at BuyAndStoreGold.
While not UL rated as a burglary safe, once you see the specs I think you will agree it has a place in your home for firearms, documents (including media), and yes, even some gold and silver.
You can order it online, have it delivered to your door
Comes unassembled so you can transport and install yourself
Total weight is 195 pounds so a thief won't exactly carry it out under his arm
Probably the most safe you can install in many apartments and condos
Has a very high fire rating (2300 degrees F for 1 hour)
Integrates easily into a closet system
High quality electronic push button lock for high security, quick access
There are two holes pre-drilled in the bottom to secure it to the floor or a platform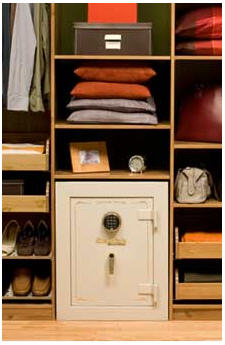 While we certainly are all for more expensive, heavier, UL burglary rated safes for storing gold at home we also realize that those safes are HEAVY, difficult to move (for you) and EXPENSIVE. It's just harder to keep a low profile when buying one of those too.
The Little Titan comes in pieces for you to easily and quickly assemble, but don't let that give you the impression it is not a secure safe.
Naturally, any safe is MORE secure if you bolt it down. Please be careful drilling holes in the concrete floor, though, if you live in a home with post-tension slab. Google it, you will be glad you did.
Let's take a look at the features listed by the manufacturer, SnapSafe:
• Delivered right to your door
• Assembles in less than 30-minutes without tools
• Patented "Latch Wall" assembly
• Sledgehammer and pry-bar resistant 3/16" solid steel door
• Strong, 1/8" solid steel body
• 2300°F one-hour Fire Shield home fire safe protection
• Heat activated door fire seals
• Sargent & Greenleaf® digital lock
• Three ¾" chrome steel live locking bolts
• Spring-loaded relocker
• Powder coated finish
• Lined interior
• Adjustable lined shelves
• Commercial grade "non breach seal" dead bolt door
• Full-year warranty
We think this is especially a nice little safe for some gold and a handgun (quick access lock, remember?) for apartment dwellers or anyone who moves around a little.
This safe can definitely be taken up stairs or down stairs, probably without any help by most people when disassembled. Again, it reassembles in about half an hour. In addition to the instructions, there are actually stickers on the parts themselves that help you get it assembled correctly.
As a bonus, put some computer media and important documents in this little gem.
TIP: Load the bottom of the safe with Silver or ammo to make it heavier. This helps prevent thieves from carrying it off to work on breaking into it at their leisure on their own premises.
So when wondering where to store gold at home, and hesitating before buying a mammoth, expensive burglary safe, take a look at the Little Titan Safe from SnapSafe rather than doing without.
Learn more about the Little Titan Safe for storing gold at home