BullionVault Allows Limit Orders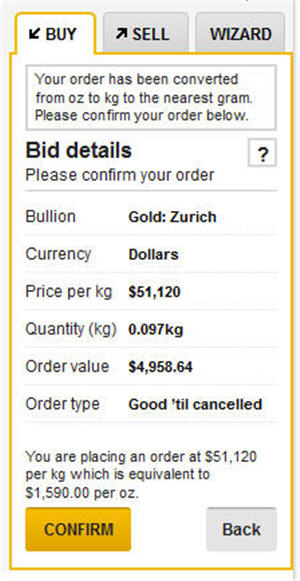 The nice thing about BullionVault is that you can place a limit order to buy Gold at BullionVault and pay only the price you want to pay.
And since not all of us can sit home and watch the market all day and night, this is particularly helpful to place the order when you feel like it and make it good-until-cancelled.
That's what we had people doing this morning as the price of Gold dropped below $1600 per ounce (briefly).
Is Gold going to $1575? $1550? no one knows. But what we do know is that you can place your orders to buy Gold at BullionVault at the price you want, allowing for commissions of course.
As you can see from the screenshot at left, the order is converted into price per kilogram (see the conversion table at bottom of the right hand column of this site), but there is no doubt as you are placing the order that you have it correct.
Once the limit order to buy Gold at BullionVault has been placed you will see a box on the screen like the one below that even includes a big red "KILL" button, along with a refresh button so you can see if any part of the order has been matched or "filled".
We learned a long time ago, and sometimes have to re-learn, that you make money when you BUY not when you SELL! Therefore, buying an asset at the RIGHT PRICE is critical.
Sadly, there are very few places you can buy Gold or Silver and use a limit order such that you do not have to glue yourself to the computer screen watching the price blips hour after hour, day after day. Forget, too, having to set some kind of an alert with some app for your smartphone.
BullionVault "gets it" that you want limit orders and offer the kind of features you want and we have asked for.
Don't have a BullionVault account yet? That is easy and very quick to remedy. Working with BullionVault has been simple, easy and hassle free for us. We think you will find it the same.
If you are interested in the most economical way to buy and store Gold, offshore, safe, secure with an easy to use web portal, then take a look at BullionVault