Avoid Overpaying For Gold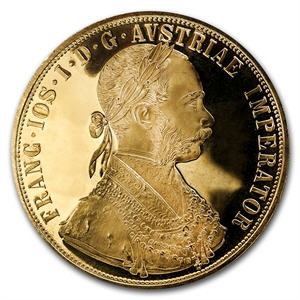 The time was somewhere in the mid 1990's. In all fairness, the average guy had not heard too much about buying American Eagle Gold coins, launched in 1986. Most talk about Gold coins centered around the older Saint-Guadens or Liberty with "numismatic" value, otherwise known as higher premiums.
We had an insurance agent that I had know since I was in Scouts that sold coins too, so we bought a few.
I made the mistake of talking about putting a Gold coin in a necklace and he ended up selling us a few Austrian 4 Ducat Gold coins because they were so "beautiful".
Then, when I thought I was just asking to see a holder for it to be in a necklace I ended up buying one at $16.00. Never used it. If you are interested, let me know.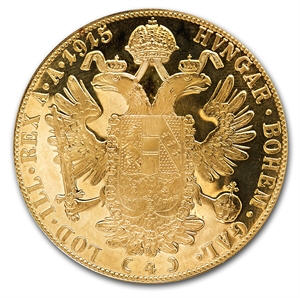 Here is the reverse of the coin at right. It's OK, but no real biggie to me. The weird thing is the size, for one, 40mm in diameter but only .7mm in thickness.
So over the weekend I'm cleaning out some stuff and buying air-tites for coins I'm giving for Christmas like those Noah's Ark Armenian coins I recently bought from Apmex and I ran across these 4 Ducats.
Apmex has them listed as a "hot" item, but please. These things are .4438 ounces of Gold, .986 find (23.75 carat). Is that weird or what?
These coins are stamped 1915, but they are reproductions from the 1920's (something the Austrian mint is known for) and produced in such quantities as to have zero numismatic value.
So what are they? A .4438 ounce Gold coin weighing .4501 ounces. And since it is so thing and close to 24 carat that I am guessing it would bend pretty easily being so big.
Other Stupid Gold Coins to Own
Following along in the category of oddball coins, this same dealer thought we should have some smaller denominations. So – he probably unloaded what he had – we bought some Mexican Peso coins in weird sizes that no one would recognize.
Were 1/10 Eagles not available then? I did not check, but I'm sure SOMETHING better was out there.
What Gold Coins to Buy Instead
Fortunately, shortly after this "stupid" buy, we moved to Pandas – a MUCH prettier coin for a necklace in my mind (and my wife's), Eagles and, since 2006, Buffaloes.
When you buy Gold coins, buy what your really like that you do not expect to sell. But for what you expect to sell someday, buy what is "standard", recognized and accepted.
Buy Gold coins that are increments of 1 troy ounce (1/10, 1/4, 1/2, 1 ounce). NOT .4438 or whatever these oddball Mexican Peso coins are.
If You Want To Buy Gold In Small Quantities
If buying Gold and/or Silver in dollar quantities is what you are looking for, do not buy goofy Gold coins, but maybe look at online Gold accounts like BullionVault, GoldMoney, or SilverSaver.
These companies will hold the Gold/Silver for you in most cases and you buy and sell in dollars. Extremely convenient, low storage fees.
Another option, especially if you would like your dollar (Euro, whatever) payments to eventually end up as coins or bars is the MetalStream monthly automatic purchase program from the Hard Assets Alliance.