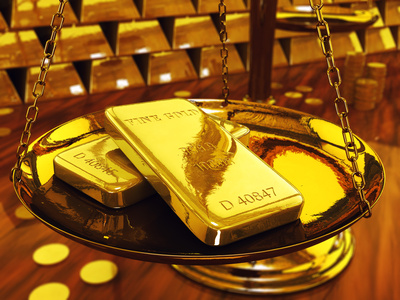 Why Is The Gold Price Not Dropping?
It was many years ago when I heard Doug Casey recommend to buy Gold during the period of the 'Summer Doldrums'. Mining stocks too.
There just seems to be a cyclical pattern that causes Gold & Silver to be cheaper in the summer months.
As for Gold Mining Stocks, the Canadian brokerage companies responsible for touting the lion's share of mining stocks seemed to pretty much take the Summer off for vacation, and with less demand, naturally stock prices would slide.
Gold itself traditionally was affected more by the Indian 'Wedding Season' causing prices to rise and then lacking any other driver, fall down in other periods of the year.
Our own recommendation here was to grab your Christmas stocking stuffer coins for children and grand-children during this period of the year when prices for Gold tended to be lower.
Why not?
Buy more Gold for the money!
Gold Prices Steady This Summer
During 2017 we have seen Gold prices that have traded in a vary narrow range. Why is that?
I believe there are numerous reasons:
The Federal Reserve is again on the war path to raise interest rates. How many times will they raise? How much will they raise overall? What will that do to the economy?
The US economy is overdue for a recession, yet, we also witnessed a 'Trump Surge' in the economy, stock market, and certain sentiment indicators.
Speculators may be spending a little more time in the 'casino' of Bitcoin and the alt crypto currencies. Heaven knows Bitcoin has been on a wild roller coaster the past few months!
Almost no one with an IQ larger than his or her shoe size really believes there is no inflation – regardless of the low price of oil/energy glut.
The Bitcoin effect…
The Bitcoin Effect
Fiat currencies lack of intrinsic value bothers almost no one; yet, we see more and more cases of countries in trouble (Venezuela has replaced Zimbabwe as the poster child of worthless currency).
Folks who have a basic understanding of Bitcoin yet are not 'on board' with the crypto currency are asking "isn't it just 'air'?" – to which the answer is pretty much, YES!
Once folks start to have the argument that Bitcoin and other crypto currencies are not backed by anything and have no intrinsic value the next logical item for discussion is the, used to be 'Billions', now 'TRILLIONS' of debt overhanging the mighty US Dollar.
And THAT, dear reader, brings the thinking individual back to Gold, Silver and other precious metals!
Buy Gold To Preserve Wealth
As my friend Simon Black always says, buy Gold to ESCAPE fiat currencies, not just to trade for more paper currency somewhere down the road.
Hence, count your Gold by the OUNCE not by the DOLLAR VALUE (or Euro or whatever).
Since the precious metals market is SO SMALL it really does not take a lot of wealth being transferred into Gold and other metals to sustain the price, or, put it on a moon shot…
Gold Price Moving Forward
So has the price of Gold found a 'floor' here?
Only time will tell. Don't let ANYONE tell you they can predict – they cannot!
Therefore the best way to buy Gold is to make regular purchases of regular amounts and dollar cost average into your Gold holdings.
Sure, you might get lucky and grab a low once in a while; you might also be trying to catch a falling knife as the price is plummeting even further…
The best way to buy Gold is with a regular, disciplined approach, such as with the MetalStream program from The Hard Assets Alliance.
Fortunately, they just LOWERED the minimums and costs of doing so which we wrote about here.