APMEX Coupon Code Not Required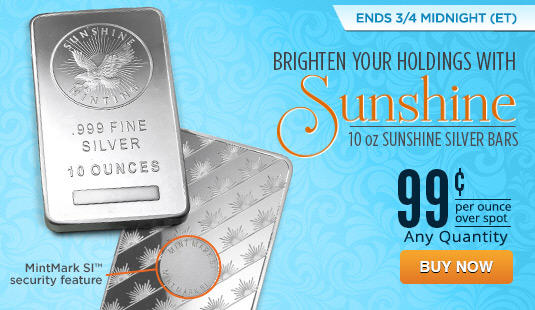 With the threat of war in Ukraine (not exactly new) Gold & Silver prices are on the move. We just received this APMEX SALE email at 8am this morning and since we had been buying 10 oz Sunshine Mint Silver Bars from JM Bullion over the weekend it piqued our interest.
So we clicked the link.
Much to our surprise, APMEX prices on these Sunshine Mint Silver Bars was normal. To get a price even close to what JM Bullion is charging you have to buy 50 or more, getting the price down to about $1.19 over spot. A far cry from 99 cents over spot – any quantity – like the sale email promised.
But even if APMEX did honor the sale email, any quantity of at least 10 over at JM Bullion would still be cheaper.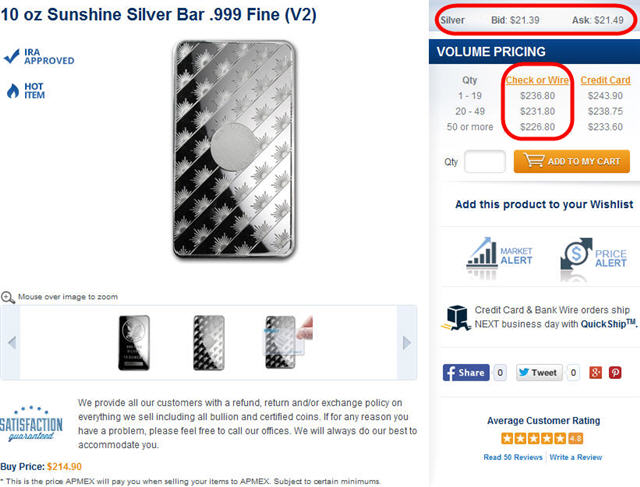 Website Chat To No Avail
Although we were in a hurry to get some Silver purchased before the price rose any more (Gold has been more active than Silver today), I thought a quick chat with a APMEX sales representative would straighten everything out.
Wrong.
Here is an excerpt of the chat:


Ok, well, enough of that. If I were to take the time to phone an Account Manager as "Tiffany" suggested later in the chat, I risk the price of Silver moving away on us and having people angry with me.
And, even though we like to spread out our purchases over different suppliers, it is hard to ignore that JM Bullion is still cheaper even if APMEX did honor the sale email.
APMEX No Tulving
Now we are NOT trying to equate APMEX to a Tulving (where it's pretty much assured customers are screwed) but this is a disappointment. We have been quite happy with APMEX in the past and presume this is just some kind of a fluke.
We certainly want to be able to buy from them in the future.
Update At Press Time
Just as we were about to hit the publish button on this post we again double checked the APMEX website to see if sale pricing was in effect.
It was.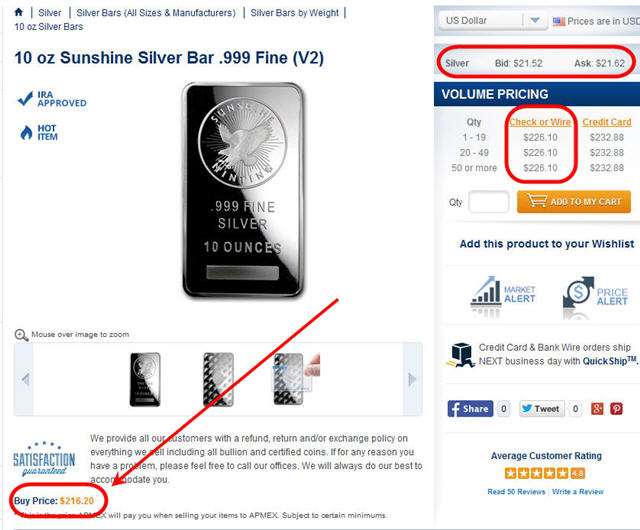 Silver Arbitrage?
Notice in the screen shot above that the Sunshine Mint Silver Bars are now reflecting the 99 cent above spot sale price, but interestingly enough, the APMEX BUY price is actually 10 cents more than the SELL price!
While I doubt they will allow an instant arbitrage here, it is an interesting turn of events and I wonder if we have discovered yet another mistake. If you compare the buy price in the above screenshot with the 99 cent pricing to the one farther up you will see that APMEX normally offers to buy back the Sunshine Mint Silver Bars at roughly spot price, not $1.00 over!
Get The Most Silver For Your Money
We have written before about why we live the 10 oz Sunshine Mint Silver Bars, and you need to get them at the lowest overall price (including any shipping costs). Just make sure to buy from a reputable dealer.
Read our full review on JM Bullion here
Buy Sunshine Mint Silver Bars at the lowest prices we have found HERE.