Problems And Suggestions Buying Coins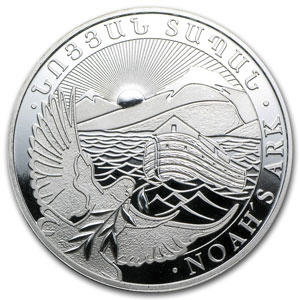 Rather than just hand over paper, fiat cash I prefer to buy Silver bullion coins for kids in payment for things that they don't really NEED to be paid for. Like one time a good friend's sons helped me with a project that I really couldn't do on my own. He told me not to pay them, they were glad to help. So I asked if I could just give them $1?
How could he refuse that? He cautiously said "OK", possibly thinking "what a cheapskate".
So I handed each of them a 1 ounce Silver Eagle bullion coin, costing about $40 at the time (OK, it's gone down in value, but just wait!)
Sneaky, eh?
Oh, and the coin was in an Air-Tite so that it could be handled and enjoyed without concern for tarnishing.
Buy Silver Bullion Coins Online Like The Armenian Noah's Ark
I was never much of a coin collector the way some people get into it, for me it was just more of a fascination and admiration for beautiful coins. So, especially as a Christian, is should surprise you not that I am kind of a sucker for coins like the Armenian Noah's Ark at left.
I actually have found the 1 ounce Silver bullion Noah's Ark coins at a local coin shop but the price was just too high of a premium. Whenever possible I support local business but they need to add value not just "be there". In this case, he could have added value by telling me that unlike almost all other Silver bullion coins, the Armenian Noah's Ark is available in 1/2 ounce, 1/4 ounce as well as larger sizes like 5 and 10 ounce, even 1 kilo. But no, he didn't.
There aren't too many REASONABLE places to buy this particular coin online, but it's out there.
OK, I've digressed from the point of this post.
SHOULD You Buy Silver Bullion Coins For Kids?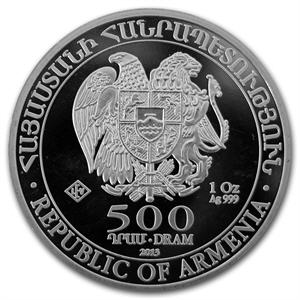 Personally I think buying Silver bullion coins for kids and grand-kids makes a lot of sense, especially now while Silver is still cheap. Hopefully they will hold on to them.
Problems With This Strategy
There are some issues with buying Silver bullion coins though:
Not every child or parent (even though that parent may be your child) will appreciate the concept of precious metals and may even actually disdain the idea of it since "I can't spend it" (even though that might be the point!)
The coins are a target for thieves and if you give a lot of these then the child/parent actually starts to have a Silver storage problem.
If you buy "cool" or "pretty" coins like the Noah's Ark shown on this page, they may become attached to something that someday may be priced in relation to other assets in such a way that the prudent thing is to sell it, and they may resist and miss a great capital gain opportunity.
Silver bullion coins can tarnish and otherwise "lose their luster", especially if handled directly, and that creates a storage issue.
Again, if you buy in quantity per child, someday they will move out of the house and have a storage issue. Doubly a problem, they may be moving at an age where they not only feel they know it all and elders are completely stupid but can also be at an age that they intentionally do rebellious (and stupid) things sometimes just for "effect". Nothing hurts a parent or grandparent like an egregious display of ingratitude (Thanks for teaching me that Chuck).
It can get to be an expensive method of "paying" or "rewarding" kids, and further, what if you want to keep all kids "equal"? Then better keep good records.
There are tax consequences upon sale, here are the [current] guidelines on whether they will get a 1099 when they sell. Having records with cost basis could be a benefit for them should they end up with a 1099 upon sale at, hopefully, MUCH higher prices someday. LARGE quantities gifted could run into annual gifting limits as well, just for the record.
All in all, though, while not any kind of investment recommendation, I do advocate you buy Silver bullion coins for children, heck, even adult children!
Some Suggestions
When you buy Silver bullion coins online or in a local store, maybe even taking a child with you when you go… here are some possible suggestions that could help:
Always shop around to get the most Silver for your money, why not? Determine whether the advantages of sovereign coins is worth the cost; differences (1099's if nothing else) between sovereign bullion silver coins like American Eagles vs Canadian Maples as premium over spot can be quite different. Austrian Philharmonics are often low premium also. Compare to just Silver bullion rounds most dealers offer.
Use Air-Tites so the coins stay looking great. Don't touch the Silver coins without cotton and/or powder free latex gloves.
Don't buy from moron coin dealers who touch the coins with their grubby fingers (yes, I've witnessed that).
Consider buying large quantities, maybe even monster boxes when prices are attractive and you can get free shipping.
Find out who will buy back the Silver and at what price. Establish and maintain a relationship with a firm known for being reputable and consistently offering the highest buyback prices. Local is nice but you may not find a qualifying dealer. Note that in the U.S., Silver Eagles will likely have the best buy back price but compare that advantage to the additional premium you pay to get them.
Make sure you teach the recipients to know when and how to sell the Silver, but not before and not for frivolous expenditures.
Optional IDEA: Tell family members you give coins to that you want first right of refusal on buyback, and that you will meet or exceed any price they find. May or may not be honored, but if they sell before "it's time" then you'll have some idea that it's going on and you can also get a chance to buy Silver on the bid side for other relatives you are still distributing the Silver bullion coins to.
Summary
I believe that to buy Silver bullion coins for your children and grand children can be a great idea, but only if you can formulate a plan and have some confidence that it will be executed even after you are gone, or after they are gone and you no longer have any influence over them.