I Found A Better Deal On Silver Maples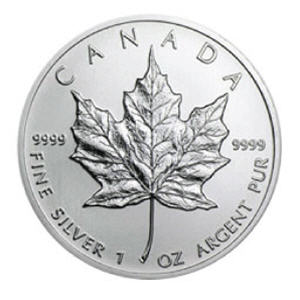 Want the lowest price on Silver Maple Leaf coins? I do.
Our friends at Casey Research offered their Big Gold subscribers a special deal from a firm that they like to buy precious metals from.
Canadian Silver Maple Leafs at only $2.89 over spot, PLUS shipping, no minimum, 500 maximum (otherwise known as a "monster box"). And you'll get them in a week or two.
So who is the deal from? Will I tell you?
NO!
Why should I? When I can tell you where to find a BETTER DEAL without any "special"?
Now we have never bought from the firm that Casey is offering the "deal" from. We have heard of them and know them to be reputable, they are a "full service" coin dealer. But that also means they charge more.
I'm sorry, but most Silver bullion buyers are price sensitive – as they should be.
Best Price Silver Maple Leaf Coins
I did not scour the landscape for pricing, there could be better deals out there. What I did do was check the one site that I know almost always has the best deal – Texas Precious Metals. (I'm doing an interview with a principal of theirs tomorrow!)
At Texas Precious Metals you can buy all the Silver Maple Leafs you want (limited to their stock, they do NOT sell what they do NOT have!).
The WORST price you will pay at Texas Precious Metals for Silver Maples is $2.59 over spot, and it gets better as you buy more. Order over $6000 worth (about 225 coins) and shipping is free. Pay by wire and they will ship in 3 business days or less. The only limit is what they have in stock.
If you buy a monster box (or more) then you pay only $2.29 over spot. That's 60 cents per coin cheaper than the Casey Big Gold deal! On a Silver Maple monster box that's $300! Plus you'll get free shipping on that HEAVY monster box (the "special deal" dealer will charge you $45).
Be Careful When Someone Offers A Deal
Even when someone I trust and respect, like Casey Research, offers a deal on Silver coins, do your own research. Do be sure to take into account shipping, insurance, wire costs, anything like that.
And if you only want a few coins, checkout a local dealer. The shipping on a few coins may be prohibitive when spread across the few coins you are buying.
Don't Forget About Selling The Silver Back
Someday you may want to sell these Silver Maple Leafs, hopefully at astronomically higher prices. Who are you going to sell them to?
Texas Precious Metals currently offers $1.00 over spot for Silver Maple Leaf coins in like condition. Most other dealers I am aware of only pay spot price. You don't HAVE to sell your Silver back to who you bought it from, but if there is ever a case where dealers are hesitant to buy, it has to help if you can show them the receipt proving you bought SOMETHING from them even if you cannot prove it was that EXACT coin.
Special Note: Texas Precious Metals own Silver bullion rounds come in a METAL monster box, sealed and SERIAL NUMBERED. In that case you COULD prove that you bought it directly from them (although, since it's their product it obviously came from them originally).
More Resources For You
If  you want to learn more about Texas Precious Metals, see our full review here.
Our post on the cheapest monster box reveals some of the Silver bullion dealers with the best Silver Maple price.
* Disclosure: BuyAndStoreGold has no relationship with Texas Precious Metals at this time (nor the "other" firm that Casey Big Gold offered the deal through)