Silver Price Plunges, But Recovers Quickly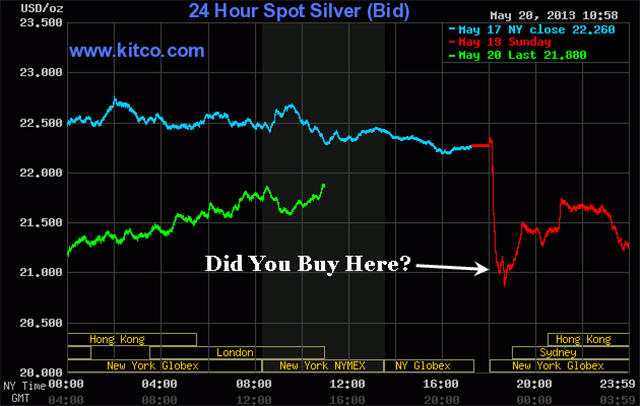 The Silver price often plunges, at least this year, in the thin early morning trading overseas. Then, by the time your local coin shop opens or maybe even by the time you get up in the morning, the price has significantly recovered.
Knowing that you make money when you buy and not when you sell, this is frustrating, isn't it?
Forget the market manipulation, all honest, thinking people understand that. The point is, you want to buy Silver and you want the lowest price, right?
Well, the only way I now of to buy at the lowest price is to use a little technical analysis to figure out where the stops are, where support is and what the possibilities for price might be and then strategically enter some Silver limit orders to buy at those lower prices.
Then, if and when Silver drops to those prices your buy limit order is triggered and YOU get the LOW price!
Where Can You Buy Physical Silver With A Limit Order?
Sure, you can buy paper Silver with limit orders, but the only market that's open at those times with those low prices are futures markets and that's simply not the realm of the average investor.
What I am talking about is buying PHYSICAL Silver that you can get your hands on and store where you want.
Personally, we have found and often written that the least expensive, most convenient way to buy and store Silver also happens to allow you to place LIMIT ORDERS to buy Silver and Gold is BullionVault.
But that's not all we like about working with that company as you can see from our full review of BullionVault's service.
Over the very long term, if we do indeed see Silver trade at triple digit prices like some prognosticators suggest (and all Silver owners hope) then it doesn't really matter too much if you buy at the low or $1.25 off the low.
But it sure makes one feel better to buy low, doesn't it? And it never hurts to get more Silver for the same amount of money, either.
Get some FREE SILVER when you sign up for a FREE account at BullionVault
…
P.S. – Silver continues to trend higher this morning, well off the low of earlier. 12ET, Gold, Silver & Platinum up SHARPLY