Is A Free Silver Eagle Coin Worth It?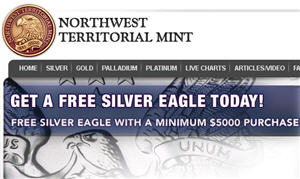 We have purchased Silver and Gold from Northwest Territorial Mint many times, though not for a while. I am still on their mailing list so I received the announcement about the FREE Silver Eagle Coin with $5000 purchase.
While this sounds enticing, is it really worth it?
Northwest Territorial Mint (NWTMint) is not the only one to offer free silver like this. In fact, I think every time I order from OnlyGold.com they send me something free, whether a "junk Silver" quarter or half, a laminated Silver certificate or even a free Silver Eagle. Unadvertised, just "thanks for your business".
Don't Fall For Free Silver Promotions
Should you run right over to NWTMint's site and buy Silver online (or other precious metals)? No.
You can run right over there and check prices if you like. But if you are going to buy $5000 of precious metals or more to get the free Silver Eagle I would highly recommend doing a full price shopping comparison like I did here.
My Biggest Gripe About NWTMint
As I have written before, my biggest complaint about NWTMint is that your order will probably not be delivered for weeks and it MAY be months! Contrast that to Texas Precious Metals where they never sell anything that is not IN STOCK & READY TO SHIP.
Let me tell you, even with a vendor your trust – and I do trust Northwest Territorial Mint – those weeks can be aggravating when times are uncertain. I've even had product that was delayed over a month after the 1st date I was given which was already 8 – 12 weeks out.
Those delays with expensive precious metals orders will test your resolve.
Why You May Want To Buy Silver From Northwest Territorial Mint
There are some products that you just cannot buy anywhere other than Northwest Territorial Mint; one in particular has been eating away at me because I WANT it but I'm not so sure it's that wise of an "investment". In my mind, it's more of an expensive GIFT for someone (yes, perhaps even "from ME to ME", Alvin).
Who Says There's No Such Thing As A "Silver Bullet"?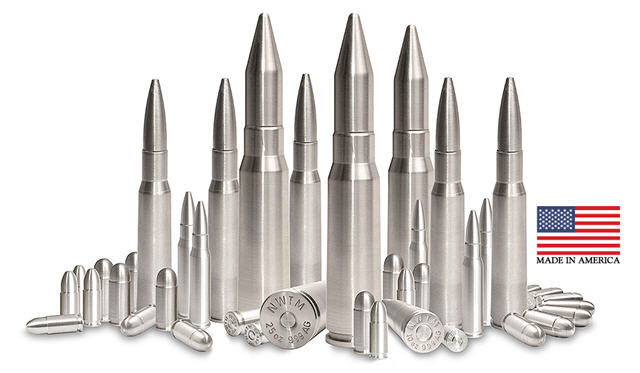 See what I mean?
Kind of irresistible aren't they? Pricey, but really cool. That's the advantage to actually working with a mint.
Free Silver Eagle Promo Ends Soon
The NWTMint website indicates two things about the Free Silver Eagle Coin promotion:
It ends soon (whatever that means)
You need to enter the PROMO COUPON CODE: SAE5000 at checkout
Silver prices may settle back some here, it's a bit overbought – but it can stay overbought for a long time the same way it stayed oversold a long time. So if you are thinking about buying Silver I wouldn't wait an especially long time, I'd get it done.