Silver Armenia 500 Drams Noah's Ark Coin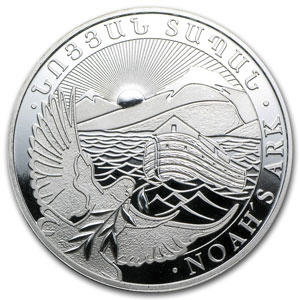 I hate to pay a big premium when buying Silver coins just because they are pretty; most all of them are pretty if untouched and still shiny. And I do not mean to burden anyone, including myself, with something of "sentimental" value that they do not feel they can sell someday.
Yet for those Christmas stocking gifts or a payment to a kid for work performed who has many never been exposed to buying Silver, Gold or the concept of "real money", something interesting always has some appeal.
Apmex is not charging too much of an arm and a leg for these Armenia Noah's Ark Silver coins, about $2.95 per coin in small quantities. And the buyback price is about $1.25 over spot because there is good demand for them due to the attractiveness of the coin and the fact you cannot just find them anywhere.
Another recent improvement at Apmex is a reduction in shipping costs. My order was under $500 for these coins and rather than the old flat rate of $25, I was only charged $9.95 which I thing is quite reasonable.
With the price of Silver beaten down again, about $21.40 per ounce when I placed the order, now was the time to get some stocking stuffers while they were on sale.
These coins are 38.6mm so I'm guessing a 39mm coin air-tites will work.