Cheaper Way To Buy Silver?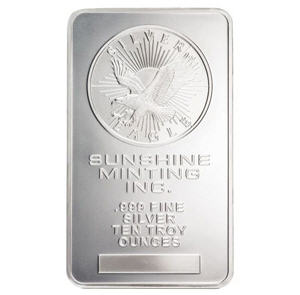 When buying Silver we want the most metal for our money, right? Well, yes, but I also consider resale value.
Silver Bars cost less than, say, American Eagle Silver coins but you might find some Silver rounds even less expensive.
Storing 10oz Silver bars is convenient, though, since they stack.
We wrote yesterday about an APMEX promo code on 10oz APMEX Silver Bars, and some were ordered. APMEX charged only $14.95 for shipping and they will ship to a P.O. Box.
JM Bullion, though, had lots of less expensive Silver bars, and I'm sure most if not all are fine to buy. But we chose Sunshine Mint 10oz bars because we know that lots of online stores sell them and will give us a competitive price buying them back.
Why sell your Silver bars for spot when you can get spot + $0.20 per ounce at someplaces?
JM Bullion Sells Silver For Less
The bottom line we found is the JM Bullion sells Silver bars for less, and they have a wide variety to choose from including the Sunshine Mint bar shown at upper left.
JMBullion.com offers free shipping on all orders with the caveat that orders over $2500 to a P.O. Box there is a $40 surcharge for. Not sure why, but there is. So…buy 10 x 10oz Silver Sunshine Mint bars at less than $2500, ship them to your P.O. Box for free and you are good to go.
Or, if you have a street address, pile them on! Shipping is FREE!
You can pay with a check if you like, they even take cashiers checks and money orders.
What we really like to see is a place like JMBullion.com, and to a lesser degree APMEX, that doesn't punish the small Silver buyer with high fees.
Silver Prices
I know the drum has been beating for about 3 years now, but Silver prices cannot stay this low forever. And I have a sneaky suspicion that when prices do head higher they will do so in a hurry with few pullbacks to prices you will consider "reasonable".
Get your Silver while you can.
Check out JM Bullion, if you like, prices are quite attractive.