Lowest Price Silver Bars .9999 (Yes, 4 – 9's) RCM 10 ounce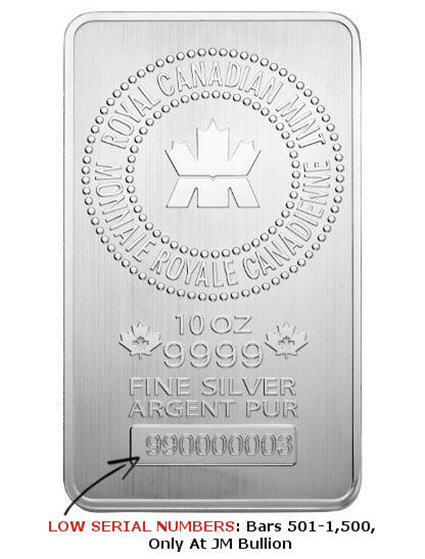 This morning we received an email that JM Bullion will soon be shipping and is taking orders for 10 ounce, .9999 fine, low serial number Royal Canadian Mint Silver Bars. We are big fans of nice 10 ounce Silver Bars because they look good, store nicely and have a little more value per item than a single coin or round.
Naturally, the Royal Canadian Mint is a premier supplier of Silver and an arm of the Canadian Government; ie, trustworthy to supply a quality product. I say that because many firms in the U.S. have "Mint" in their name trying to sound official but in reality they are just a private business.
As the only major government issued 10 oz silver bar currently being produced, these silver bars are truly unique. JM Bullion has been granted exclusive access to a specific batch of low serial numbers which include bars 501-1,500, and customers are guaranteed to receive bars in that range. With the Royal Canadian Mint expecting to produce large quantities of these bars, these low serial numbers will never be available again. Take advantage of this amazing opportunity to own an early edition piece which is sure to become a future collectors item.
Most Silver Bars are .999 fine, and while I'm not sure this matters, .9999 is just that much better. As Asian buyers become more and more dominant in the world of precious metals, I think it will matter. Asians INSIST on "four – nines" when it comes to Gold. It stands to reason they may insist on the same level of high purity for Silver.
These Silver Bars from the Royal Canadian Mint are going to be much easier to authenticate, should that ever be an issue, due to the serial number and the serrated edges.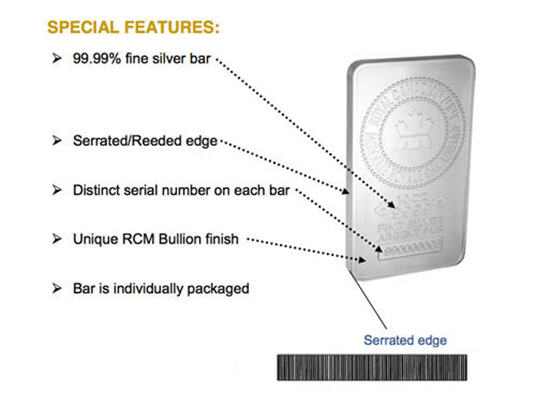 Aside from the bars superior purity, the RCM has also implemented several unique security features as an added measure of protection to investors. Each bar offers a unique serial number, which will range from 990000501 – 990001500 (the 501st – 1,500th bar ever produced by the mint). Bars 1-500 are unavailable at this time, so these are the lowest numbers currently on the market for the investing public. The bars also contain reeded edges, much like that found on a coin, as well as a unique RCM bullion finish.
JM Bullion is one of the best places to buy Silver Bars, shipping is free under most circumstances and they are small order friendly. They have a reserved lot of low serial number bars from the RCM and can be ordered now for shipment in just a week or so.
Order your Royal Canadian Mint Silver Bars at the lowest price from JM Bullion – Click Here