Plus Free Shipping Threshold Lowered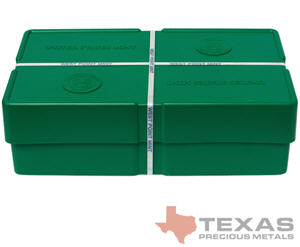 We just received an email yesterday announcing a Texas Precious Metals 2014 Coupon Code for $100 off a Silver Eagle Monster Box AND that starting January 27, 2014 the threshold for free shipping at TexMetals.com will be lowered from $6000 to $5000.
Welcome news, both.
Other dealers have been screwing people taking advantage of buyers anxiousness to have 2014 Silver Eagles for months now by taking orders for what they do not have in stock (locking in prices, yes, but with HIGH premiums).
Premiums are now contracting, and you can save $100 off a monster box with the coupon code of EAGLESLANDED. (In addition to buying from a precious metals dealer that charges fair premiums and never sells what they don't have IN STOCK.)
Valid until the end of the month.
$5000 Free Shipping To Welcome Mini-Monster
Seems like the 1/27/2014 date for lower shipping will coincide with the much anticipated release of the 2014 Texas Precious Metals Silver Rounds, and the mini-monster box (250 rounds) should then qualify for free shipping.
Unless the price of Silver tanks…
Personally I could care less about a2014 Silver Eagle over a 2013, but the 2014 Texas Precious Metals Silver Round has a new design, and I want that.