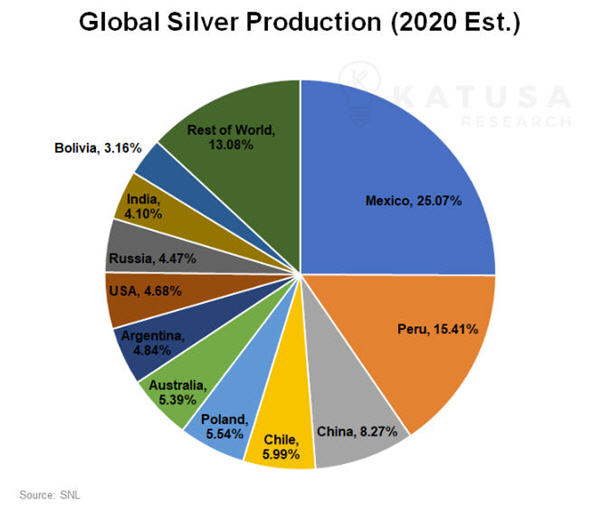 Could Silver Be On The Move?
Folks asking if it's time to buy Silver in 2020 today could be linked to a major newsletter writer sending out a piece making the case for Silver to shine…
At least a little more than it has for many years now.
I've had to move several times in the past few years and lugging monster boxes of Silver, bags of junk silver coins, etc is no fun!
Contributing to the misery is knowing that much of that dead weight has not only been dead money for many years but was purchased at much higher prices than current.
History of Buying Silver
I was a young adult when Silver mad it's huge move at the end of the 70's, early 1980 and then came violently crashing down. The Hunt brothers were blamed.
Yet I always thought there was more to it.
For a number of reasons I think there was more to it than that, yet we saw similar behavior the last time Silver went on a tear.
Everyone gets interested in Silver
Everyone goes crazy about Silver
Silver price goes parabolic
Silver price crashes
We wait years for the cycle to repeat…
As the newsletter writer opined:
Silver (or 'Argentum' in Latin) has been a prized metal since antiquity.
Silver coins were, of course, not only common but extraordinarily widespread in use until my early childhood.
Even then, they could be found in pockets, purses and drawers for decades.
One of the more interesting and historical storage places for monetary Silver was the bottom of the Atlantic in a ship sunk during World War II, the SS Gairsoppa.
The Silver bullion onboard was recovered in recent years and turned into commemorative coins and bars, of which I have a few.
Reasons Why It's Time To Buy Silver
Now in 2020 we have the COVID-19 crisis, manufactured or otherwise it doesn't matter.
Silver mines have been shut down throughout the world affecting supply.
I would caution heavily buying for this reason alone.
However, Silver has moved in conjunction with and, at times, leading Gold.
The SIC 2020 conference of John Mauldin's (primarily New York liberal) friends found many of them buying, recommending or at least "seeing the case" for Gold in 2020.
Central banks have been buying Gold. Russia & China rumored to be big buyers…
One thing we've learned from history is that Silver usually peaks in price BEFORE Gold does.
And since Silver is a smaller market and more volatile, usually does so in a more dramatic fashion!
Another reason you might think it's time to buy Silver is the Gold/Silver ratio or perhaps just that Silver seems to have some "catching up" to do.
In fact:
Silver is 61% off its record intraday high $49.50 on April 28, 2011.
Gold is only 6% off its record intraday high $1923.70 on September 6, 2011.
Wow… 2011. It HAS been a LONG TIME!
There are other indicators you might be watching to think it's time to buy Silver. Commitment of Traders is always bandied about, yet, that was USELESS back in 2013 as Silver fell to very painful lows.
How To Profit Buying Silver
Many folks feel you must buy Silver and store it at home or the backyard.
Well, as mentioned above, that's very painful when it comes time to MOVE.
Also, one can argue that there is leverage you can take advantage of with the right Silver mining stocks. Be careful, though, as leverage works both ways and BITES on the wrong way!
We have been drawn to quality Silver stock plays recommended by the best analysts; ones who put their money where their mouth is.
One of the very best mining stock analysts out there right now is, in our humble opinion, Lobo Tiggre (his real name) at The Independent Speculator.
Lobo is a world renowned "rock kicker" who is more comfortable in the field than behind a desk in Puerto Rico…
Yet COVID has put a damper on that this year.
If you are like us and have a portfolio full of dogs or just questionable picks from years of portfolio neglect you are going to want to find out what Lobo thinks of what you've been buying and keeping.
It just might be time to make some changes to PROFIT from another moonshot in the price of Silver.
His inexpensive "My Take" service will also serve as a primer on profiting with mining stocks. Take a look today.