Always Double Check Prices, Free May Not Be Free
Northwest Territorial Mint is again offering a free one ounce Silver Christmas coin (either a manger scene or Santa Claus – your choice) with orders over $2500.
They have done this in past years and I personally have one of the manger scene coins in the nice box in comes in somewhere around.
Just remember to comparison shop the price of what you are buying. No since paying a few hundred dollars more so that you can get a "free" Silver coin.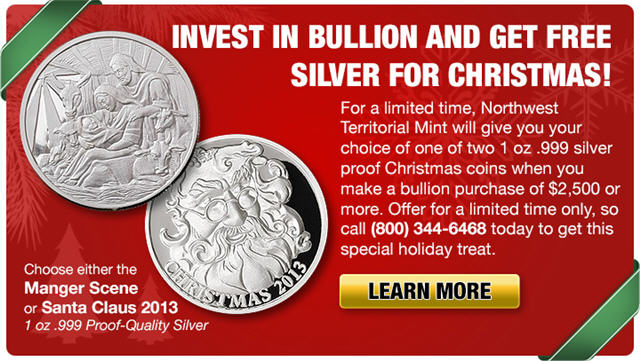 One nice thing about NWTMint is that you can buy Silver and get free shipping included. That's worth quite a bit with large quantities of Silver, though they are not exclusive in offering that.
What we DON'T like about Northwest Territorial Mint is that, unless you buy small quantities at higher prices from the online store, delivery dates can be far off in the future. With the Christmas coin, though, they will ship that out right away as soon as they confirm good funds from you, which is nice. It should be here well in time for Christmas stockings.