Best Gold IRA Investment Option – US, Swiss Storage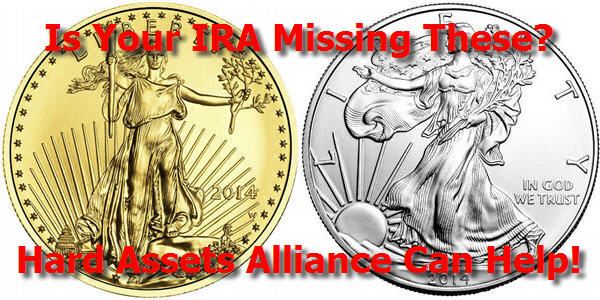 ---
Free Precious Metals IRA Guide! – Just released, this is the free report that HAA General Manager Ed D'Agostino promised in the video. Click here
---
If you are looking to open a Gold IRA account with physical, fully allocated precious metal or want a 401k Gold IRA Rollover account to better protect your wealth, then the Hard Assets Alliance may well be your best option. There are four different types of accounts to suit your needs: Traditional IRA, Roth IRA, SEP IRA and Simple IRA.
But first, let's be clear about an important point. With a Hard Assets Alliance IRA you are not limited to just buying Gold in your IRA or rollover account, but also Silver, Platinum and Palladium!
Neither are you limited to just the U.S. storage vaults of New York and Salt Lake City. In the exclusive interview BuyAndStoreGold did with Ed D'Agostino, General Manager of HAA just yesterday, Ed announced for the first time that clients also have the option of a Gold IRA in Switzerland with U.S. American Eagle Gold coins securely stored at VIAMAT's facility in Zurich.
Hard Assets Alliance IRA: Flexible & Secure
Some of the points we cover in the video below is the safety, security and flexibility of using HAA for your Gold IRA account. And while we talk about Gold, you can have Silver in the IRA as well as Platinum and Palladium, though I would not go crazy over diversifying unless you have significant funds to commit to the precious metals IRA account.
Adding physical metal that has no counterparty risk is significantly different than buying some ETF or fund in an IRA brokerage account. These metals are legally YOURS and do not belong to any other company who then merely has a liability on the books to your IRA.
With Hard Assets Alliance your IRA precious metals are securely stored in the U.S. but now there is a brand new option of buying Gold Eagles in your IRA that can be stored in Switzerland. Never will you have to worry about buying the wrong metal product or storing is somewhere that is not in compliance with the law.
Hard Assets Alliance protects your IRA by only offering you products and storage locations that are 100% legal with current laws.
How about special reporting if you choose Swiss storage of those Gold Eagles? Nope, we covered that in the interview also, that's what's special about offering only Gold Eagles for Swiss storage in that it triggers no additional offshore gold account reporting of any kind.
All of this is offered to you with very low premiums on the purchase of the precious metals and some of the most reasonable storage fees as well.
IRA Custodian & Fees
HAA partners with Entrust, a leading IRA custodial company. While you will have a contact with Entrust, opening the IRA is as seamless as it can get going through Hard Assets Alliance. There is a $25 one time setup fee and an annual $100 maintenance fee both of which go to Entrust; HAA does not charge any IRA fees.
Timeframe Of IRA Setup
While we do not recommend procrastinating with the setup of your IRA account at the Hard Assets Alliance, setup is very quick – typically completed in only about 2 days time.
You do have until the tax filing deadline (April 15th most years) to fund an IRA for the previous taxable year.
Setup your precious metals IRA account now, at Hard Assets Alliance
Exclusive Interview With Hard Assets Alliance General Manager
In this interview Ed D'Agostino and Roger discuss why a Hard Assets Alliance IRA gives you more flexibility and protection than probably any other online Gold IRA account available. And, as mentioned above, Ed announces for the first time the availability of a Gold IRA account with Swiss storage and NO ADDITIONAL REPORTING!

Get started with a fully allocated, physical metal, Gold IRA account with the fully compliant Hard Assets Alliance IRA program by Clicking Here.