Jim Rickards Sets Nouriel Roubini Straight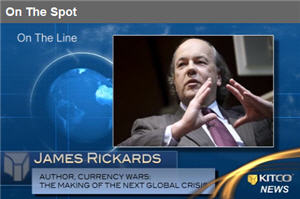 Don't let the gold haters confuse you with talk of why Gold is a bad investment because it pays no interest, has no yield. I believe Warren Buffett, the "oracle of Omaha" has said the same thing. By the way, Warren sold his extensive Silver holdings at around $7 per ounce, before it soared to $47 and still way below today's sale price of $21.64 per ounce.
These often otherwise intelligent individuals are ones who are confused. They don't know what Gold is – and isn't.
Jim Rickards explains it thoroughly in this video at Kitco.
I recommend you listen in (and watch Daniela, Jim is via phone) but here is the synopsis:
Gold is not an investment, per se, though you may very well reap capital gains over time (or losses)
Gold is a CURRENCY
Just like the dollar bill in your pocket, Gold has no yield –

IT's NOT SUPPOSED TO!

If we did go back to a Gold standard, which Rickards doesn't expect, Gold would be repriced – just like in the 1930's – SIGNIFICANTLY HIGHER, and then the Gold trade would be OVER.
The media is ignorant, stupid, paid off or a combination of the three to continue to listen to some of these people whose arguments are so easy to punch holes in. And Rickards truly does make it look easy.
The Reason To Own Gold
Bottom line is that you want to own Gold, as a currency, because you don't trust the alternative currencies: US Dollar, Japanese Yen, "Who owes you nothing" Euro, UK Sterling? Really?
Gold (and maybe Silver) are the only currency that is not simultaneously someone else's liability.
Where Is The Price Of Gold Going?
Will the price of Gold go higher? If it doesn't, then NOTHING matters anymore when a nearly unending supply of something (Dollars, Yen) can be pumped into the supply side of an equation with zero effect on price.
Will the price of Gold go lower before it goes higher? No one knows for sure. Roubini's expectation of $1000 per ounce Gold by 2015 is highly unlikely though.
If you would like to buy – and optionally store – Gold, Silver, Platinum and Palladium with a solid U.S. company, then take a look at Hard Assets Alliance (Even for IRA's!). You can even store Gold offshore with HAA and have no additional IRS/Treasury reporting obligations.
Should you prefer and overseas company to buy and store your precious metals, then, as always, we highly recommend both BullionVault and GoldMoney.