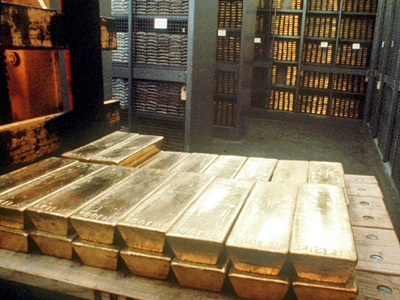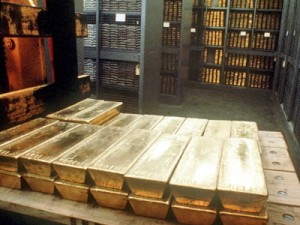 Bloomberg reported that Venezuelan President Hugo Chavez ordered his government to repatriate $11 billion in Gold held in banks abroad to safeguard the country from the economic crisis and said he'll nationalize the local Gold industry.
Venezuela has about 211 tons of its 365 tons of gold reserves held abroad at institutions including the Bank of England, JP Morgan Chase & Co. (JPM), Barclays Plc (BARC), Standard Chartered Plc (STAN) and the Bank of Nova Scotia (BNS).
One wonders if the powers that be will find a way to increase President Chavez's health problems significantly enough to render him, well, dead (UPDATE: He died less than 2 years after we published this). Dealing outside the U.S. Dollar, let alone encouraging gold, has been found by more than one world leader to be hazardous to one's health.
In addition, Chavez is nationalizing his country's mining industry. That does not sit well with us personally, and will probably be ultimately a negative for the people of Venezuela.
What I have not seen discussed is what effect this might have on gold leasing to short selling speculators. If any of Venezuela's gold has been leased out for profit to someone for shorting purposes (they've likely been getting killed with gold's price going up almost non-stop), then once that gold is repatriated to Venezuela, they either have to find someone else to borrow it from or buy gold to cover their short position.
$11 billion is a sizable amount of gold, no?
Yet Venezuela may not be the only country to ask for their Gold back (UPDATE: There have been several more since, notably, Germany. Guess what? Germany wants the Gold over 5 years and even that cannot be accommodated!).
While we cannot suggest everyone individually keep all his or her Gold on his own "soil", after all, we don't have armies, we will say that it pays to know who you are dealing with when it comes to Gold storage. Large commercial banks that are in cahoots with government are NOT a good choice.
Private companies with Sterling Silver reputations (pardon the pun) are a much better way to go.
Most financial planners will recommend a least some allocation of your wealth to Gold and/or Silver, if nothing else they will call it an "insurance policy" against the you-know-what hitting the proverbial fan.
Actually, recent history shows us that disaster does not need to be evident (notice I didn't say "strike" since not everyone will notice!) in order for the price of Gold and Silver in US Dollars to jump significantly.
Despite this, most folks have no option in their 401(k) to invest in Gold. One way to make up for that deficiency is with a Gold IRA that you can do own your own. Learn more about that here.
Hugo Chavez Knows the Importance of Owning Gold, Do You?
Are you at risk of losing the purchasing value of your financial nest egg? Do you think maybe it's time to buy some gold and store it safely?
Here are some options for you:
Or, better yet, do a little (or a lot) of all three.