Ben Silbermann, CEO, Could Not Compete With Gold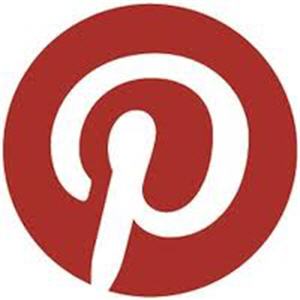 The CEO of Pinterest, lauded as the "next big thing" now that Instagram was snatched up by Facebook, explained how Pinterest came to be, some challenges he and his co-founder faced, and how they overcame them in this really neat article and slideshow.
With my own ties to the Midwest and time spent in Des Moines, Iowa – the hometown of Silbermann – I found his story quite fascinating.
And while I suppose it is a hindrance to not have been born in Silicon Valley it could be said that he at least had the slight Romney-esque advantage of being born of parents with some means.
Rich People Buying Gold
While I recommend anyone with an interest in either a future Pinterest IPO or technology and the internet read and view the entire story/slideshow (there is even an audio link near the end), what I really want to draw your attention to is slide number 24 of 63, shown below.
The yellow highlights and red underline were added by me, the reference to quitting was his quitting his job at Google :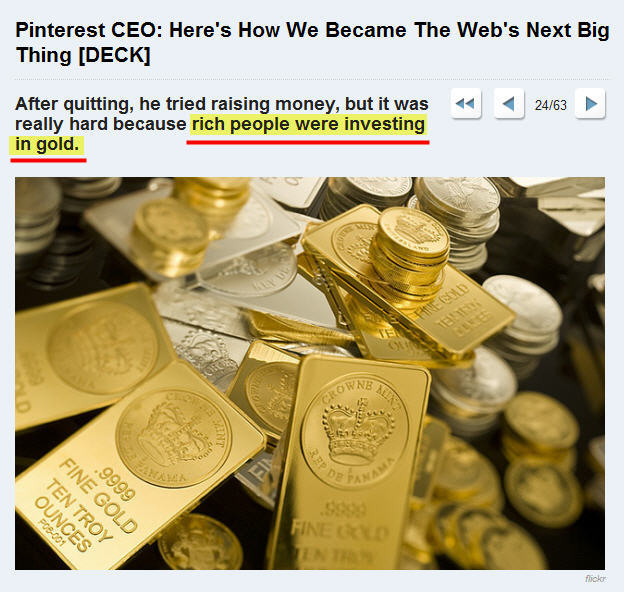 Turns out their timing was bad and when they went to look for venture capital for Pinterest they found money hard to come by since rich people were buying gold instead.
Whether rich or not-as-rich, we feel gold is NORMALLY a better bet than most tech startups; not that many turn out to be Pinterest!
Should you find yourself not owning enough gold or silver, may I remind you that prices are (relatively) low and seem to be resistant to going lower (no promises now!) –
For physical gold and silver (or even to have them store for you) – check out GoldSilver.com
Otherwise, we are big fans of BullionVault for offshore gold storage.