Why Do So Few People Own Gold?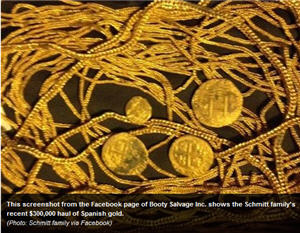 In last week's interview with Ed D'Agostino of Hard Assets Alliance I specifically mentioned how it's always a big news story whenever some farmer in Britain plows up an old Roman Gold or Silver coin or one of these ocean salvage companies recovers sunken treasure.
Sure enough, less than a week later and that very thing is making big news. $300,000 worth of Gold coins, chains from a 1715 fleet of ships sunk in a hurricane off the Florida coast.
This treasure was lost at sea almost 300 years ago, yet what was valuable treasure then is still valuable treasure today.
If a ship laden with current U.S. coinage or waterproof bundles of US $100 bills, how much do you think that would be worth in 300 years? Would you accept my bet that it wouldn't be worth diving for, even in shallow water?
Gold & Silver Are A Store Of Wealth – Where Is Your Wealth Stored?
If you have any kind of wealth that you hope to preserve through tough times in your life or perhaps want to preserve as a legacy for children and grand children, what are you putting that wealth into?
How about some muni bonds? No triple A muni bond has EVER defaulted – they always DOWNGRADE it first (Washington Public Power, known as "Whoops" bonds when they went belly up).
How about some 30 year US treasuries yielding less than 4%? How much you willing to be on inflation over 30 years? Remember what it was 30 years ago?
Maybe some blue chip stocks like Eastman Kodak, an up and coming energy firm like Enron, or maybe one of the Big 3 auto makers like GM or Chrysler, they'll surely never go broke or need a bailout.
So How Do You Get Started Buying Gold?
(Consult your financial advisor about investment decisions; this is NOT investment advice!)
If you agree that Gold and Silver are long term stores of wealth that can protect your family's legacy, get started now. You can dollar cost average into your position if that makes you feel better about not buying too high.
Personally, I would not wait too long to get started.
For small amounts of Gold & Silver you can perhaps start by buying coins and storing them at home. Obviously this has risk so we personally prefer BullionVault for small investors since storage costs are low as is any type of expense you will encounter.
Hard Assets Alliance will very soon begin their automatic investment plan where you can send them $250 per month automatically and have it converted to Gold right away in a pooled format. When you have enough to buy a physical product like a coin or bar you can convert it to that form so that you have fully allocated metal in your name.
Either way you will be protecting your wealth. If you don't want to have to report the holdings or otherwise are uncomfortable with offshore Gold storage, Hard Assets Alliance is a US based firm offering both U.S. and offshore precious metals storage – your choice. (Always consult a competent tax advisor about financial account reporting.)
Summary
Clearly the world accepts the fact that Gold & Silver are a bonafide, timeless store of wealth. Unfortunately, few Americans seem to be prudent enough to take action to convert their wealth into a form that will stand the test of time. Foreigners, especially those from Asia and India, know better and are taking action.
What will you do?