Hard Assets Alliance Offers 5×10 1 Gram Gold Squares For Crisis Payments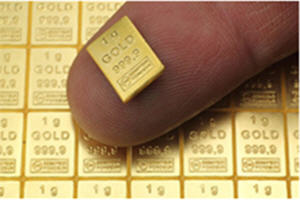 Hard Assets Alliance understands that Gold buyers often consider precious metals to be disaster insurance, especially versus fiat currencies. Should the you-know-what ever hit the fan in your country, having a Gold CombiBar in your wallet that you can break off Gold in 1 gram increments (currently between $40 – $50 per gram) allows you to make payments for essential goods or services in a currency whose value is not changing by the minute.
Are we predicting financial (or other) Armageddon around the corner? No… but you never know and we don't either.
The Gold CombiBar by Valcambi Suisse is 1.6075 ounces of Gold stamped into a grid of 5×10 1 gram squares (OK, I think they might actually be rectangular) stamped with their weight and fineness such that they can be easily recognizable for the value they hold.
Compact, Divisible Gold Payment System
You pay very little extra premium for this credit card sized "crisis payment system", currently less than $30 per ounce more than a Gold Buffalo or American Eagle.
At this point in time you are still held to the $5000 minimum buy at Hard Assets Alliance, meaning that until Gold goes up another $150 or so per ounce, you'll be required to buy 3 CombiBars to meet the minimum. That means 1 for your wallet, 1 for your spouse and maybe an extra for the home safe.
With the Valcambi Suisse CombiBar, simply "break off" Gold in 1 gram increments and use it for trade and payments. For someone who understands the value of Gold, it's clear exactly what you are offering for payment. Granted, grams are less used in the United States, but should the need arise I think the savvy will catch on quickly.

As you can see from the image above, the CombiBar is packaged in such a way as to be portable and carried easily with you as you go about your day.
This is really a great offering from HAA since we are not gouged with a high fabrication cost/premium.
Just remember that each CombiBar is 1.6075 ounces of Gold so that you don't think you are being charged jewelry type markups when you look at the pricing. You may want to get out your calculator but once you know the conversion number we just gave you that should be all you need to avoid getting ripped off.
Learn more about Hard Assets Alliance and the Valcambi Suisse Combibar here