Gold & Silver Are Real Money, Timeless Treasure
In Houston, TX a not-so-bright family gave a man an old home safe, still locked, heavy as can be, to be sold for scrap. See story here. Yes, a safe is supposed to be heavy, but didn't you notice that clunking and rattling sound coming from inside?
It turns out that the scrapper was a bit better endowed with gray matter than the family who owned the safe and he took the risk of hiring a locksmith to open the safe in hopes there would be enough value inside to more than pay the locksmith fee.
How does $2.5 million in Gold & Silver grab you?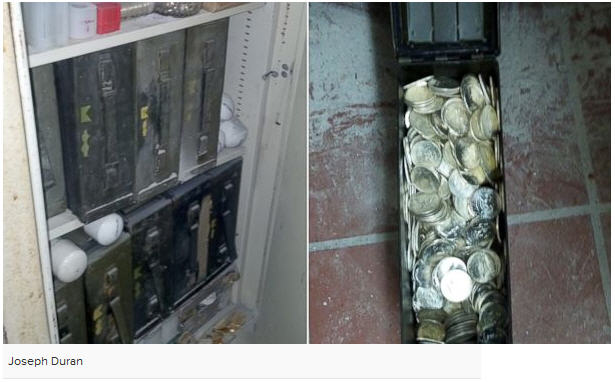 Heck, there's probably $75 to $100 worth of ammo boxes there!
The safe had Gold Krugerrands in those white PVC pipes and the ammo boxes filled with Silver coins. The Krugerrands were not the best choice in Gold coin as they not only have the same low Gold content as US Gold Eagles, but happen to fall under the reportable category for 1099B on sale – not as good from a privacy standpoint.
Yet make no bones about it, I won't turn down a Krugerrand if you give me one or try to sell it to me for $25 Mark Dice!
Storing Gold and Silver At Home
You can certainly store Gold & Silver at home, in reasonable quantities (being whatever YOU are comfortable with). A good home safe like the one in this story helps. It was very heavy, aside from the contents, being CONCRETE lined.
This particular safe was:
Hard to open, even for a locksmith
Hard to carry away, it was so heavy
Probably fire resistant with the heavy steal and concrete – but don't quote me, we are not fire protection experts
Whatever you do, though, keep TRACK of where you store your Gold and Silver and entrust at least 1 family member for when your eventual (and certain) demise takes place.
No need having the media, the government, taxman and everyone else on your back like this family will – aside from paying the HONEST scrap man a nice percentage I'm sure. Legally, I doubt he owed the family anything.
When storing Gold at home, make sure you either protect it well with a quality safe, or protect it from being found with a product like the FoxLok small hidden safe that can be buried (review coming soon!).
Gold & Silver Are Real Money, Even After 300 Years
We have written on this before, and Mike Maloney's Hidden Secrets Of Money video series is doing an exceptional job of teaching, but these stories prove that Gold & Silver are real money, true wealth and they stand the test of time.
The 2nd video on ABCnews.com shows that Florida family that found 300 year old sunken treasure in the form of Gold coins. Treasure then, treasure now. I'm betting that is NOT the case with the U.S. Federal Reserve Notes in your wallet and mine.
If you are not sure why Gold & Silver might belong in your portfolio, maybe you should head over to our sister site, InvestLetters.com and check out the Hidden Secrets Of Money videos. Click Here