Expensive Mistake Buying Gold At GoldMoney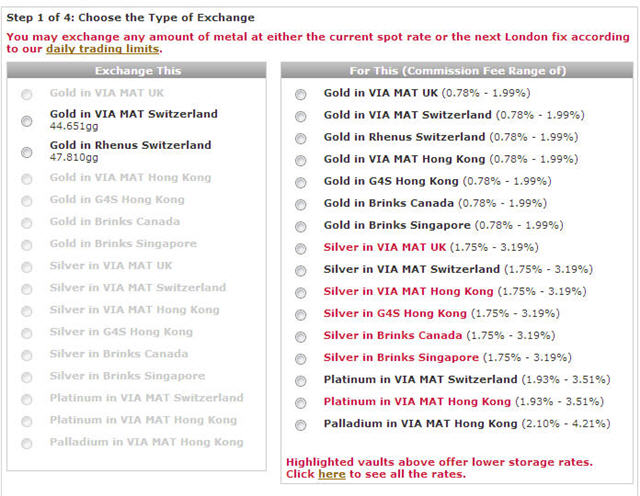 With this particular GoldMoney account I made two purchases of Gold in Switzerland. The second time, in early December, I was in a hurry – my fault. I wanted to buy Gold in Switzerland and forgot that the first time I bought gold in this GoldMoney account I took advantage of the new Rhenus offshore gold storage option at the Zurich Airport – probably just to get some diversification from VIA MAT in Zurich.
So my second purchase was VIA MAT, no biggie, right?
Wrong.
When I went to create my own "monthly statement" (because unlike BullionVault, GoldMoney does NOT provide statements of any kind) [Update: they now do], I saw that I was charged the minimum storage fee for EACH Swiss storage location. Argh!
BullionVault, on the other hand, combines storage locations when calculating storage fees, which not only are lower than GoldMoney's storage fees in the first place, but are charged in CASH instead of PRECIOUS METAL like GoldMoney's. Now granted, if I were BV or GM, I would prefer metal over cash any day – it's automatically adjusted for inflation! But as a customer, I prefer to pay my storage fees in CASH, not METAL and avoid even the THOUGHT that I should report that miniscule sale as a 1099 capital transaction!
The Remedy For My GoldMoney Purchase Mistake
The only way I can really fix the problem I created is to make a "transfer" of metal in my GoldMoney account, a screenshot of my options shown at the top of this post.
But as you can see, in order to save that $5 or so per month in fees I will have to take about a 2% hit for the conversion – or about $50. Not the end of the world, and it's better than paying $60/year (indexed to the PRICE OF GOLD!) forever after.
Don't get me wrong, the problem is caused by my error and the ADDITIONAL STORAGE options that GoldMoney has over BullionVault, but still – ticks me off.
Maybe the GoldMoney software could list the purchase options more like some mutual funds do:
Would you like to create a NEW LOCATION holding
or, ADD TO your CURRENT LOCATION
and that way prevent idiots like me from making that kind of error again.
Just a thought.
BullionVault vs GoldMoney
To be clear, we like and use BOTH BullionVault and GoldMoney. In most areas of comparison, though, BullionVault comes out more to our liking. But compare them yourself or do what we have done and open accounts at both companies – Diversify!
Learn more about BullionVault and get 4 Free Grams of Silver when you open a free account*
Learn more about GoldMoney and open and free account
…
…
* Promotions are subject to change, but are typically long running