Offshore Gold Storage Without Going There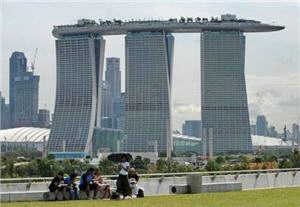 Personally I would love to buy and store gold in Singapore by way of actually traveling there and seeing the Sky Park in the photo at left.
Unfortunately that is probably not in my future.
But that does not mean I cannot have offshore gold stored in Singapore any more.
Hard Assets Alliance (HAA) should soon have the ability to store gold in Singapore and with my SmartMetals account I can buy some gold coins and have THEM store it in Singapore for me. All for less hassle than TSA and probably less money than the baggage charge on a flight over there.
Reasons To Store Gold In Singapore
There are many safe, stable jurisdictions to store offshore gold, silver, platinum and palladium. Simon Black of SovereignMan fame has mentioned Singapore for many reasons:
It's one of the safest places on the planet. There's practically zero crime.
Jim Rogers lives there (OK, this is my addition to the list. Jim's a sharp guy)
There's no corruption either. Singapore is one of the most transparent places in the world. If someone doesn't abide by the terms of a contract, for example, any foreigner could get a fair hearing in court to enforce the contract. (Not sure that can be said of many parts of the US of A)
Singapore is optimized for business and investment. Taxes on income and profits are low. There is no capital gains tax. It's quite easy to set up a company. And practically every nationality in the world can travel here visa free. (Sounds like Texas on steroids)
It's stable, and growing. This is not some fledgling third world country that has a coup every other Tuesday. Singapore has long been one of the wealthiest places in the world per capita, and it has a very, very bright future as one of the world's largest financial centers.
Note, though, that the VAT tax they dropped does not cover ALL Sovereign gold coins. You have probably picked up in other writings of mine that I prefer the gold Buffalo at .999 fine to the Eagle at .916 – which is the same as the Krugerrand. The Singapore VAT tax exemption does NOT apply to the Eagle or Krugerrand because the gold purity is too low.
It's been often said, unofficially at least, that the Buffalo was created due to the Asians affinity – and insistence – on more gold purity.
While Simon Black speaks of storing your gold offshore in non-bank safe deposit boxes, that requires either that:
You travel there personally.
You ship your gold to a business there willing to receive your gold and store it for you. Some of us may be a little hesitant to spend the money on shipping and then trusting a company we have never met.
The alternative with a company like Hard Assets Alliance is that they are a U.S. firm and will handle everything for you all under the watchful eye of U.S. law for very low costs. Additionally, it's easy for you or I to meet the people involved by attending a conference somewhere in the United States at all different times of the year. These guys are not hard to find.
If you really are stuck on storing gold in Singapore, HAA may well be your answer. But keep in mind that there is nothing magical or mystical about Singapore. Other jurisdictions, even Hong Kong, are likely every bit as good for your needs.
You can learn more about Hard Assets Alliance by clicking here. If you do open a SmartMetals account with them we appreciate you mentioning us on the application. We have trusted them with our money and think you can too; but always perform your own due diligence.