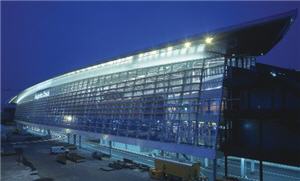 Every once in a while someone says that they want a gold storage option that is not using VIA MAT. Not that they necessarily don't like VIA MAT, but just want more ways to diversify their offshore gold storage.
Now GoldMoney is offering offshore Gold Storage in Switzerland using the secure vaults of Rhenus Freight Logistics at Zurich Airport.
This gold vault is situated underground in the secure zone of the Zurich Airport offering superb security and yet another way for you to diversify your GoldMoney holdings.
As a GoldMoney customer utilizing this storage option you will have the ability to view your metal by visiting the vault provided you have registered at least one 400 ounce gold bar with the unique GoldMoney registration system offered.
From the GoldMoney press release:
GoldMoney already offers secure and fully insured storage in the United Kingdom, Switzerland, and Hong Kong with VIA MAT and G4S, two of the most trusted and well-respected names in the secure transport and storage business. "Diversification is becoming more and more important to our customers and we therefore aim to provide a wide range of options to store metals in different countries, but also with different vault operators. Working with first-class partner Rhenus Freight Logistics is another step to protect our customers' assets", says CEO Geoff Turk.
When you open a free gold holding at GoldMoney you have the option to trade in four precious metals (gold, silver, platinum and palladium) using their secure online platform in nine different currencies.
Learn more about buying and storing gold offshore with GoldMoney