GoldMoney and BullionVault Offshore Gold Storage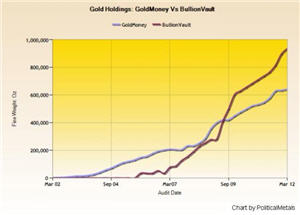 I have used and been shamelessly promoting both GoldMoney and BullionVault for some time now. So when I saw this headline:
GoldMoney & BullionVault clients of all people most to be pitied?
I just had to comment on a few forums that I participate in.
Now as the above article points out, BullionVault has really been gathering deposits in the last few years.
It's no surprise to me because I have written before that I think BullionVault is easier to get setup than GoldMoney, especially for a trust or LLC (GoldMoney absolutely refuses to open an account for a simple husband/wife estate planning oriented, revocable living trust and adds many hurdles, minimums and fees for any other trust).
But for diversification, I use both.
Naturally, I personally suggest to friends that they not pity me but join me 😀
A couple of the advantages to having precious metals at GoldMoney and BullionVault are:
You buy gold and silver at some of the lowest prices possible and sell at some of the highest prices possible, net of fees
Storage fees are low and reasonable
You are diversifying country risk of your assets with offshore gold storage
They take care of securing your precious metals from loss due to burglary, robbery, fire damage, even misplacing (it happens!)
So if you want to profit from the next ride up in the price of gold and silver and the above advantages sound like they fit into your life/financial plan, then check out BullionVault (and claim a free gram of gold) and GoldMoney.
P.S. – a couple of tax notes: Neither issues 1099's and both must be reported on 8938 and TDF 90-22.1 (subject to minimums)
P.S.S. – I am NOT a tax professional nor is this investment advice