U.S. Mint Announces Last 2013 Silver Eagles
I received an email from GoldSilver.com this morning warning that, since 2013 Silver Eagle sales will eclipse the 2011 record by next week, the discontinuance of U.S. Mint production of 2013 Eagles and the lag time before 2014 are available you will likely see a shortage of Silver Eagles resulting in higher premiums.
Yes, buy now. What vendor doesn't suggest that?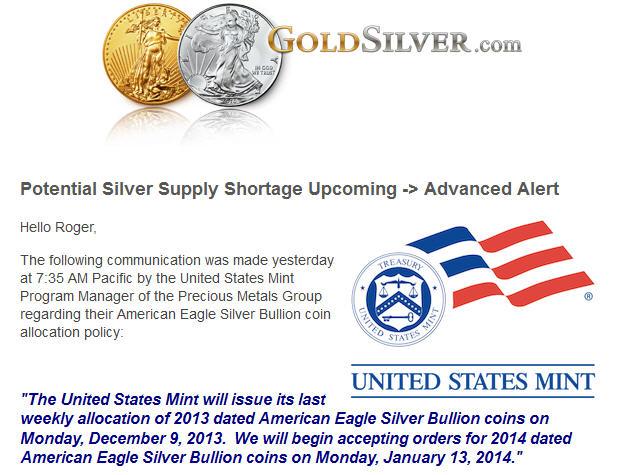 Well, there may be something to it, if you want Silver Eagles. And yes, it often makes sense to buy Silver Eagles (here in the U.S.) because that is what people recognize, ask for, and will often pay more for.
The quote from the mint is:
The United States Mint will issue its last weekly allocation of 2013 dated American Eagle Silver Bullion coins on Monday December 9, 2013. We will begin accepting orders for 2014 dated American Eagle Silver Bullion coins on Monday, January 13, 2014
With the current weakness in Silver prices generated by the Fed "leaving the door open" to tapering in December, maybe it is a good time to buy. The people we read think tapering is not going to happen for a long time if ever. Certainly the Fed wouldn't rule it out, come on folks. They have to keep up appearances, especially until Helo Ben is officially out the door and Janet takes the reins.