Transfer Your Gold To Secure Vault Storage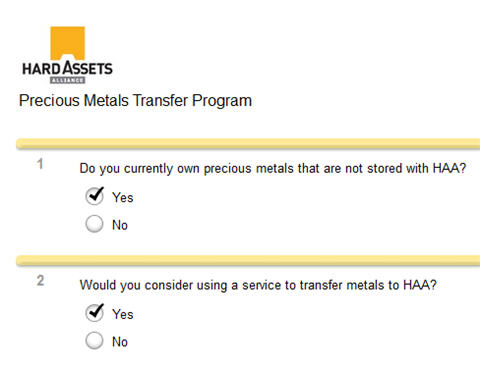 As we reported in our interview with Ed D'Agostino, Hard Assets Alliance is working towards a precious metals transfer program whereby you could take Gold stored at home (and other precious metals), ship them to a 3rd party like Brinks where they would authenticate your shipment and ultimately have those Gold coins or bars become part of your Hard Assets Alliance account.
Once that metal is part of your HAA account it becomes fully allocated, insured, securely stored Gold, Silver, Platinum or Palladium that you can keep in storage, have shipped back to you, or sell at some of the best prices via HAA's dealer network getting institutional pricing.
Right now, as you can see by the image in the upper right, Hard Assets Alliance is trying to gauge interest in a precious metals transfer program before they fully commit to rolling out the program.
Our guess, though, is that response will be so overwhelming that they will essentially have no choice but to succumb to the market demand for this type of service.
How Will The Precious Metals Transfer Program Be Priced?
At this point in time we have no idea what a service like this will cost, although once the metals become part of your account we are quite sure that they will receive the same discounted, preferential storage fee schedule that all of your other HAA metals enjoy.
Knowing the people and the precepts behind the entire Hard Assets Alliance creation, though, it is a fairly safe bet that these precious metals transfer services will be reasonably and attractively priced.
Stay tuned for more info, we will post as soon as we have it.
In the meantime, get your Hard Assets Alliance account opened and ready for funding or metals transfer – Click Here