Who Reports Gold Sales To The IRS?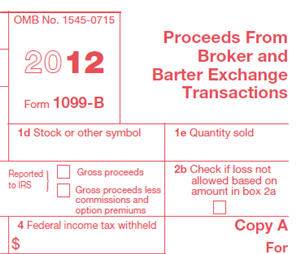 Everyone wants to know which Gold storage firms will send you a 1099 when you sell you Gold, Silver or other Precious Metals that they hold for you.
This is a little different than going into a coin shop and selling Gold or Silver there. We had another page where we discussed minimizing reporting on your gold sales.
What we are discussing here are the firms that deal in storing Gold for you, in some cases offshore. Firms like BullionVault, GoldMoney, GlobalGold, Hard Assets Alliance, GoldSilver.com, etc.
We want to make very clear that we are in no way advocating hiding anything from the IRS or not paying any tax that you owe.
What we want to do, though, is help you be informed on what reporting is or is not done for you. You, personally, are always responsible for reporting taxable income or gains. (The IRS doesn't seem too concerned about you not reporting your losses!)
How To Determine If Your Gold Storage Vendor Will Send A 1099B
From what we have determined, there is a pretty easy way to know if a Gold storage vendor will send you a 1099B when you sell Gold that you have stored with them.
If they are a U.S. based company, they will follow the reporting rules on precious metals (found here); other than to say that they may very well take the aggressive attorney approach and report even when they are not required too!
So far we have not found any overseas Gold storage company that reports sales of Gold or Silver on 1099's to the U.S. Government. They may exist, but not to our knowledge.
Table Of Gold Storage Companies and 1099B Policy
Here is a table of companies that we have used or are aware of their 1099B precious metals sales reporting. If you have additional information on a company not listed or information that contradicts what we have, please leave a comment and we will look into it.
| Company | Jurisdiction | 1099B? | Review Link |
| --- | --- | --- | --- |
| BullionVault | Great Britain | No | BullionVault Review |
| GoldMoney | British Channel Islands | No | GoldMoney Review |
| Hard Assets Alliance | United States | YES | Hard Assets Alliance Review |
| Global Gold | Switzerland | No | Global Gold Review |
| GoldSilver.com | United States (California) | YES | GoldSilver.com Review |
Just to reiterate, this 1099B Gold sale reporting information is not in any way intended to encourage you to avoid paying taxes you owe; in fact, it could be considered a reminder that if you sell Gold with one of these companies who do NOT issue 1099's then it is your responsibility to try to remember on your own.
Of the companies above, BullionVault remains our overall favorite for buying and storing Gold offshore.