Protecting Your Wealth With Gold & Silver Outside Of Banking System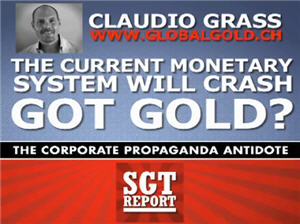 The SGT Report interviewed Claudio Grass the managing director of Global Gold based in Switzerland.
In this video (audio with a static graphic so listening to the MP3 is just as good) Claudio discusses what's going on in the world with wealth moving from West to East (as we have discussed a little bit here & here with regard to storing Gold in Singapore).
Global Gold is a firm we use, like and trust – the main caveat being those  Swiss Alps-sized minimums, inflexible policies and methods, and of course those excruciating Swiss costs.
That not withstanding, if you have the wealth and wish to store physical Gold outside the banking system with a firm that will get to know you by name and give personal service, then check out our Global Gold review here.
Claudio's English is excellent and accent not too difficult to understand so I hope you enjoy this interview.

In the meantime, if you like the concept of Global Gold but would like:
MUCH Lower Costs
MUCH Lower Minimums
A similar level of personal service
Equivalent safety and security of your investment
MUCH greater convenient funding of your account
MUCH easier delivery of your bullion
Native English speaking customer service
Then take a look at Hard Assets Alliance, we think you will like what you see.