Hong Kong Storage: Gold & Silver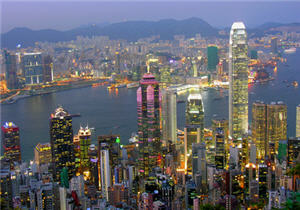 Hong Kong Gold storage is easily within reach for anyone with a computer; going to Hong Kong may be a wonderful experience for those who can afford the time and money but it's not necessary for storing Gold & Silver there.
Thanks to the internet and some visionaries like James Turk and other founders of GoldMoney, offshore Gold storage is simple, easy and inexpensive – and all done from your computer comfortably seated in your living room. Even in exotic locations like Hong Kong and Singapore.
We have been discussing in our own recent interviews and heard again this morning when listening to Claudio Grass of Global Gold the movement of wealth from "West to East". And with it goes the desire to have one's true, real wealth (ie, Gold & Silver) stored close to hand.
You don't have to be retiring to Thailand or visiting on a medical tourism jaunt to find yourself traveling Asia. While the West has gotten fat, lazy and government dependent, Asians have been quietly working hard and carving out a slice of a better life for themselves. And no one needs to convince them that real money, true wealth is Gold and Silver.
Hong Kong Gold Storage Options
If you decide that either by your own presence in the Asia Pacific region or just your attraction to the jurisdictional diversification for your offshore Gold holdings that Hong Kong Gold storage makes sense you really have limited options.
Yes, if you can travel there – and I'd love to – you can easily buy Gold anywhere at good prices, it's not like the U.S. where fast food is the only thing easy to buy; then open an account (can be done for Americans for a while longer) and deposit that Gold you bought in a secure facility.
Buy Hong Kong Gold and Silver Online
Another option that is just so easy, convenient and cost effective – even if you do get a chance to walk the streets of Hong Kong, is to open an account with GoldMoney, fund it, and buy Gold & Silver with the click of a mouse for storage in either Hong Kong's VIA MAT or G4S secure vault facilities. GoldMoney even offers Platinum & Palladium storage in Hong Kong, though the prices are a bit higher for that.
The Hong Kong storage of Gold & Silver with GoldMoney is no more expensive than the other storage facilities offered in other parts of the world like  London & Zurich.
Take a look at the wide array of Gold and  Silver offshore storage options at GoldMoney (Including limited options for Platinum & Palladium – noticing that Hong Kong is the ONLY option for Palladium):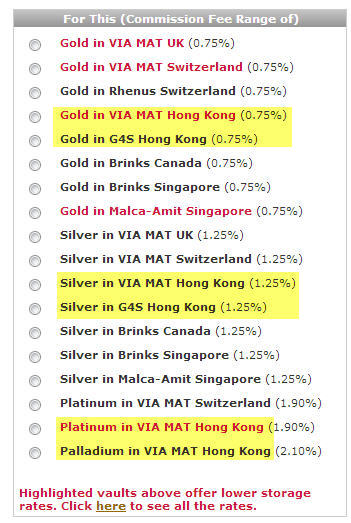 Summary
Buying and Storing Gold in Hong Kong with GoldMoney is really not a big deal to accomplish. If you have been thinking about it, wondering about it, procrastinating about it… no need to wait any longer.
Could the Gold price go down from here? Sure, it could. Of course we just learned that JP Morgan closed out it's short Gold position so the big money doesn't really think so. And with Silver one never knows – but Claudio Grass thinks it's 6 times cheaper than Gold right now.
Platinum and Palladium are not terribly popular, but you can get those too if you want.
Consult with your own investment advisor, we give no investment or tax advice here. What we can tell you is that we have several GoldMoney accounts among those of us here at BuyAndStoreGold and are very happy with the company.
Find out more about GoldMoney and Hong Kong Gold storage by clicking here.