No Minimum Fees, Vaults Aggregated For Discounts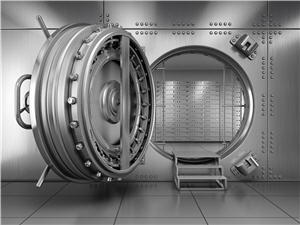 One of the questions we get a lot is how do the Hard Assets Alliance Storage Fees work? This is a reasonable question, because before HAA came along, most anyone who had hired someone to store Gold or Silver for them was charge an exorbitant fee for doing so.
Then, to add insult to injury, it was found that some large banks were charging clients to store Gold that they had leased out for another fee to someone else! Naturally, no banker (that we know of) ever went to jail for doing that even though you or I would be sent up the river for a long time for fraud if we did that.
Moral of that story: NEVER store Gold in a bank! (For multiple reasons.)
HAA Does NOT Have A Minimum Storage Fee
The first bit of good news about Hard Assets Alliance storage fees is that they do NOT have a minimum charge. If you make a minimum purchase of $5000 for storage, you will pay the same storage RATE as someone with $100,000 of metals in storage. (See the table below for actual current as of this date fees.)
Other online Gold accounts, including other favorites of ours like BullionVault and GoldMoney have a monthly minimum fee.
Hard Assets Alliance Storage Fee Schedule (as of Sept, 2013)

| | | |
| --- | --- | --- |
| Total Account Assets | Annual Storage Rate for Gold, Platinum, Palladium | Annual Storage Rate for Silver |
| <= US$100,000 | 0.70% | 0.80% |
| $100,001 – $500,000 | 0.65% | 0.75% |
| $500,001 – $1 Million | 0.60% | 0.70% |
| $1 Million + | 0.50% | 0.60% |
HAA Aggregates Vault Locations For Discounts
The next big of good news regarding how Hard Assets Alliance charges for storage is that they will aggregate all vault locations when determining which rate you will be charged. So if you have $75,000 in metals in Zurich and you would like to store your next $30,000 in metals in Singapore but had your eye on that storage discount at $100,001, no worries as they would say in Melbourne, you will get the quantity break discount at over $100,000 since your total account is over that amount.
HAA Aggregates All Precious Metals When Calculating Fee Discounts
Here again, the break on storage fees is for your ENTIRE ACCOUNT, not PER METAL. So if you have $100,000 in Gold and make a small buy of $10,000 in Platinum, for instance, you will get the price break on both metals because they use the COMBINED value of your account when determining storage rates.
HAA Does Not Zing You For Silver Storage!
OK, we all know that Silver is much larger in volume for the same dollar value as Gold, Platinum or Palladium and therefore justifies higher storage fees.
But some precious metals storage facilities charge up to DOUBLE for Silver over Gold; that seems just crazy to us.
At Hard Assets Alliance, you pay just a little bit more for Silver storage over Gold, Platinum and Palladium; what a nice break for Silver investors.
Silver is higher but not double
How Are The Storage Fees Billed And Paid?
Once again, we really like the way that Hard Assets Alliance has chosen to structure there customer-centric business model.
Storage fees for precious metals are billed quarterly at HAA (see example here) via invoice – obviously at 1/4 the rate from the storage fee schedule above. You will get an email at that time, so always make sure your contact info is correct on your account!
If you have a cash balance in your account high enough to cover the storage fee, which is the way we keep our account, they will simply deduct the appropriate amount. You get a PDF copy of the invoice for your records and it MAY be tax deductible as an investment expense on Form 1040 Schedule A, subject to the 2% limitation (see your TAX ADVISOR, we are NOT CPA's or tax attorneys).
If there is not sufficient funds in your account you can remit funds or add to your account with an easy ACH deposit. There is a 30 day grace period for you to do so. Naturally, they reserve the right to liquidate enough metal to pay the invoice if you fail to respond after the generous time period.
Summary
We really like the reasonable storage fees of Hard Assets Alliance and the many ways they show they are putting the customer first, like with vault and metals aggregation for discounts.
Paying the fees is easy, for me that means US Dollars. That beats the daylights out of the $35+ fee I pay just for currency conversion on my Global Gold storage fee invoice.
Would you like to learn more about Hard Assets Alliance and how they can help you protect the wealth you have worked hard to earn and keep? Ready to open an account?
Click here to learn more about Hard Assets Alliance or get started now