How Marc Faber Views Gold Ownership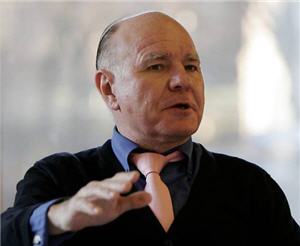 Marc Faber of the Gloom, Boom & Doom Report was interviewed by the Sprott organization and asked about Gold price, Gold confiscation, and where it's all leading to.
While we encourage you to listen to the full interview, (almost 29 minutes but it goes fast), below we have some of the highlights of what Marc spoke on.
Faber is Swiss in background but has been working and living in Asia since the 70's if I'm not mistaken and currently living in Thailand. Yes he's a cigarette smoking nearly bald guy with a tiny pony tail in back but his thoughts are always highly sought after by the financial press.
You won't hear precious metals trading advice from him, the strategies he employs are more long term in nature; he even mentions that if he had a crystal ball he could have sold all of his Gold at higher prices and bought it back cheaper.
Problem, though, what do you do with the cash in the meantime? He does not trust paper currency and loathes having cash in banks.
Additionally, here are some other highlights of the Sprott "Ask The Expert" interview with Marc Faber:
Marc Faber wants to have money in precious metals, primarily Gold, and doesn't value it in terms of fiat currency but in ounces of metal.
AT ALL TIMES HOLD GOLD
The Gold must be outside the banking system and we are NOT talking about paper derivatives like the ETF GLD
Faber feels that one day paper assets and financial assets will be DESTROYED – not tomorrow, but one day
Faber values having some physical gold in proximity (Thailand, Hong Kong) to himself, will be moving some from Europe to Asia (he lives in Thailand, remember, even though he is of Swiss heritage) – This is why Hard Assets Alliance can make a lot of sense for US citizens: you can store Gold some here in country, some offshore in better jurisdictions.
Speaking of Government Gold confiscation, the jurisdiction of offshore Gold storage may be a benefit. After confiscation, they may revalue the PRICE of GOLD upwards maybe even 1000% (10 times the current price!)
Makes no sense for it to take so many years for the German Gold repatriation…unless it's not there!
Here is the full "video" of Marc being interviewed by Sprott Money News:

Again, while there are many programs we use and recommend for buying and storing Gold outside the banking system, Hard Assets Alliance seems to be the one best answer that fits Faber's criteria if you happen to be a US Citizen. Remember, with HAA there are NO REPORTING REQUIREMENTS and if you sign up before 7/31/2013 you get FREE STORAGE for the rest of the year.
Let us know what you think in the comments below