Gold Valcambi CombiBar (With Assay) in 1 Ounce Size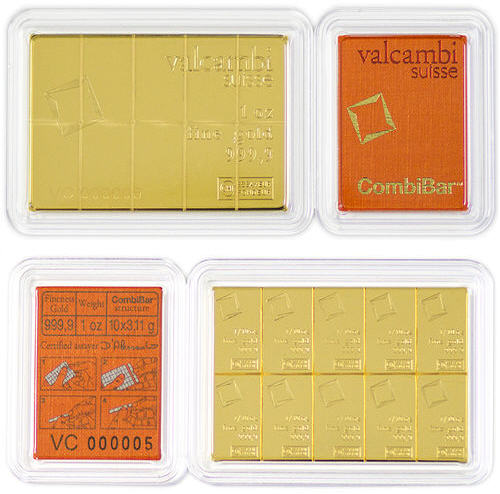 The Valcambi Gold CombiBar has been incredibly popular in the 50 gram size, which is about 1.6 ounces of Gold. Now you can find a 1 ounce Valcambi Gold CombiBar at JM Bullion (Click Here) for the lowest price we have seen; in fact, right now very few vendors have the 1 ounce CombiBar.
With a 1 ounce CombiBar, not only is the price lower than a 50g bar (1.6075 ounces) but since it is exactly 1 ounce of Gold you don't need a calculator to know the premium over spot gold.
This 1 ounce Gold CombiBar is breakable into individual 1/10 oz pieces. Produced by Valcambi it is available in brand new condition. These bars ship encased in their original sealed assay cards just as received them from the mint certifying its 99.99% gold purity.
Isn't this just the coolest idea? When I first saw it I wondered how it could break apart with perfect accuracy to get the weight correct, but everything I have read on this indicates it is not a problem and recognized as accurate when pieces are removed.
While I may not want to carry one on me all the time, this would be a great way to have some "international" cash on a person when traveling, and… may not even be recognized as valuable by a thief! After all, I have seen several law enforcement officers look at a 1 ounce Gold Buffalo coin and not realize they were looking at a "felony" level item – being worth over $1000.
Yes, foreigners are more knowledgeable about precious metals than Americans, but I doubt that applies to two-bit thieves on Caribbean islands. Either way, looks less obvious than 12 or 15 Benjamins.
A Few Details About The 1 Ounce Gold CombiBar
On the front side of the bar you will see identification information stamped right on it that states:
Valcambi Suisse; one-ounce fine gold 999.9
Production serial number of the bar
Valcambi's brand symbols.
Upon closer inspection please note, if you please, that each of the ten sections of the bar bares a part of these markings, making the entire bar a sort of a "puzzle". Each section on the reverse side of the bar is stamped with all of the information.
Free Shipping With JM Bullion
One feature we really love about JM Bullion is the FREE SHIPPING. Most online precious metals dealers require large orders to get free shipping, but at JM Bullion we enjoy low prices on the Gold & Silver we buy but have no worries about shipping charges dramatically affecting the price per ounce we pay for the metal.
JM Bullion truly is a friend of the small order customer.
Since we cannot link to JM Bullion any longer, get your Gold Combibar at The Hard Assets Alliance here.