Buy Gold In Zurich Automatically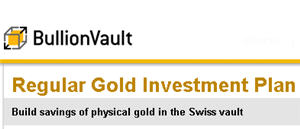 An automatic investment plan that allows you to buy Gold in your online Gold account makes a lot of sense so that you can use the power of dollar cost averaging to get more Gold for less money.
Perhaps more importantly, it helps take the WORRY out of fluctuations in the metals price; in fact, it allows you to actually be HAPPY when the price goes down temporarily since you buy more ounces for the same money.
Automatic investment plans for online gold accounts are not new but have been picking up in interest and offerings.
Silver Saver has been offering a program offering both Gold and Silver for some time now and is very popular.
The Hard Assets Alliance has just recently begun their MetalStream program which is one of the most versatile automatic investment programs available and reasonably priced. Get the full details on HAA's auto investment plan for Gold by following that link (our site).
Now, BullionVault has launched their "Regular Gold Investment Plan".
Buy Gold Online For Zurich Offshore Storage
With BullionVault's new automatic investment program we are limited to buying Gold only, not Silver, for storage in Zurich only – which is a top storage location.
The way it works is that ALL FUNDS IN YOUR ACCOUNT will be used to buy Gold at the daily clearing price price at 2:45 London time. There may be a small balance left in your account after the buy. You must have over US$100 in the account in order for there to be a purchase.
Note that if you use currencies other than the U.S. Dollar there is a 3% currency conversion fee. Yes, there sometimes is an advantage to being a Yank.
The idea is for you to setup an automatic investment from the bank account attached to your online Gold account, then when the funds are clear they will be invested in Gold the next UK (United Kingdom) business day.
Special Note: You cannot sell bullion with automatic investment turned on to prevent those funds from being automatically invested the next day! Turn off automatic investing in order to sell. Hmm, good tip!
Limitations Of BullionVault Regular Gold Investment Plan
Notice the strict limitations of the BullionVault automatic investment plan versus other vendors:
All funds in your account will be used to make the buy, amount of purchase is determined by your automatic  transfer of funds from your bank
Only Gold can be purchased, not Silver
The Gold will be purchased for storage in Zurich only. Fortunately, BullionVault aggregates storage locations for purposes of calculating storage fees and minimum monthly fees.
Summary
If you don't mind the limitations of the BullionVault Regular Gold Investment Plan, it's a nice addition to their online Gold accounts.
Personally we are more inclined to MetalStream so that we can choose if we want the Gold OR SILVER shipped to us or stored.
BullionVault is, though, one of our top picks for online Gold accounts and offshore Gold storage.