You Do NOT Have To Be Wealthy To Own Gold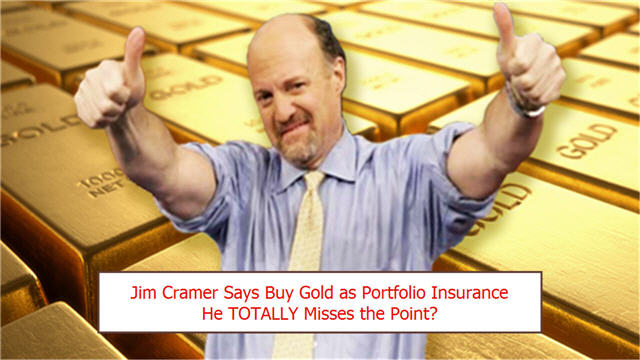 What's wrong with Jim Cramer's recommendations on Gold? Let me count the ways.
It's easier for me to list what I agree with:
Buy Gold
That's it.
As for limiting your Gold ownership to 10%? That's up to you.
Let's talk about his other statements on buying Gold:
Gold Is Portfolio Insurance
Cramer suggests that you buy Gold for portfolio insurance because as other things go down in price, Gold will go up. Well, over the last several years, can anyone definitely state an inverse price correlation between Gold and anything else?
Not so's you'd notice!
Whether it's the manipulation of the Gold market or something else, bottom line is that it doesn't seem to work that way anymore.
Does that mean Gold is not portfolio insurance? Yes, to us Gold is WEALTH insurance, not PORTFOLIO insurance. Gold is wealth insurance because Gold (and Silver) have been money for 6000 years and, with some wild gyrations, ultimately protect your PURCHASING power better than anything else.
Certainly better than ANY fiat currency.
We own Gold so that when the US Dollar accelerates its approach to its intrinsic value (zero) as ALL fiat currencies have in the history of the world; we will still have wealth. There are 3 assets that familial dynasties use to protect wealth across generations:
Gold
Real Estate
Fine Art
None of us here at BuyAndStoreGold.com knows anything about fine art, we know a smidge about real estate and we know QUITE A LOT about Gold and other precious metals.
Buy Gold, but not in the expectation of protecting your stock portfolio.
Buy Gold Via The GLD ETF
Jim Cramer suggests buying your no-more-than-10% of Gold via the ETF GLD. Naturally. As a Wall St insider he would like that ETF (we prefer SGOL for an ETF).
ETF's are the easiest way to buy a REPRESENTATION of Gold, but it's NOT Gold. ETF's are great for short term TRADING based on the price of Gold. But at the end of the day, all you ever are going to get (unless you ARE wealthy) is paper dollars in exchange.
I don't want to argue over whether the GLD fund really has the Gold it's supposed to, whether or not it's been re-hypothecated or any of those issues. It doesn't matter. An ETF is not Gold, it's PAPER. It won't protect your wealth. And, though many people don't realize it, it's not necessarily cheaper than owning true physical Gold through one of the vendors we review on this site because the ETF does charge fees for storage, insurance, and other expenses of running a fund.
Only The Wealthy Can Buy Physical Gold
BALDERDASH! (and other words you might think of …)
Really Jim?
You've never heard of BullionVault, GoldMoney, SilverSaver?
Ok, so maybe you never have heard of The Hard Assets Alliance – you should!
These accounts can be opened with less than $1000. (Much less and they aren't as economical as you might want them to be, but that's fine to get started!)
You can go to a local bullion shop and buy a 1/10 ounce Gold Eagle if that's the only way you can start.
Maybe you have money in an IRA you would like to protect with a portion in Gold (click here to learn about a Gold IRA with The Hard Assets Alliance).
Cramer's statement that only the wealthy can afford to buy physical Gold is untrue, and maybe even intentionally misleading. I submit most of our entire website as evidence that his statement is patently FALSE.
The Wealthy Would Store Their Gold in a BANK
Perhaps Mr. Cramer trusts banks… do you? We sure don't.
Do you think this wealthy client of a Swiss bank who charged him for storing Gold they had loaned out, at a fee, to someone else without his/her permission? (See story here)
Thank you, no, Jim. We will trust private institutions who, unlike banks, know that they will go to JAIL if they engage in the type of fraud perpetrated by the Swiss bank in in question, and the Wall St banks who are not only too big to fail (and getting bigger & bigger), but also too big to JAIL.
VIAMAT
Brinks
Rhenus
Malca-Amit
All 4 of those listed provide services for The Hard Assets Alliance, depending on the country jurisdiction you choose to store your physical, allocated, audited & insured Gold, Silver, Platinum, Palladium.
The Hard Assets Alliance is our top recommendation. We have our own money where our mouth is, and have since HAA opened their doors.
Learn more about the Hard Assets Alliance here
Watch The Video Here